Football Expert & Columnist
Tottenham: Jamie Redknapp says Sunderland win was best of season
Jamie Redknapp says Tottenham have now proved they can play the type of football their fans want.
Last Updated: 08/12/13 8:55pm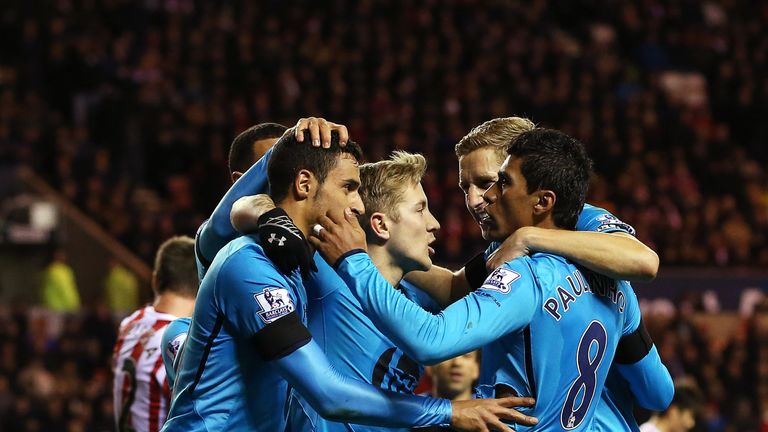 Andre Villas-Boas was criticised following the 6-0 thrashing by Manchester City two weeks ago, but his players responded with a 2-2 draw against Manchester United and away victories at Fulham and the Stadium of Light.
Redknapp, who played for Spurs from 2002-2005, says Tottenham's passing and movement has been too slow at times this season but saw a vast improvement in the second-half on Saturday Night Football.
He said: "On the balance of play I thought the second-half was as good as I've seen Tottenham play for a long time.
"That's what the fans want to see. They want to see chances created and moving the ball as fast as possible. That's exactly what they did in the second-half. It was a classy performance, but there should have been more goals.
"It's been a great week for Tottenham. They are a point better off this season than they were after the same amount of games last season.
"People say there's not a spirit at the club, but you don't come back from behind against Fulham and come back from behind against Sunderland unless you have something about you as a team.
"I think you have to congratulate them for that, especially after that 6-0. Villas-Boas didn't like it at the time, but when you spend £100million and get beat 6-0 you have to accept some stick because the team didn't perform to the level that they can.
"At times the football wasn't at the level that Tottenham fans expect, but today especially in the second-half there were signs of a vast improvement."
Opened
Glenn Hoddle praised the performances of goalscorer Paulinho and Mousa Dembele and says he wants to see both players performing at a higher level on a more consistent basis.
And the former Spurs midfielder and manager insists the team have the ability to overwhelm opponents once they get their noses in front.
Hoddle said: "Once the game opened up in the second-half and got the second goal, that's when Spurs can play at a tempo that you saw them play.
"They outnumbered Sunderland and Sunderland had all the problems then. When a team play against them and leave two up there's a lot of open spaces. Spurs will punish you; they have the ability to do that.
"When a lot of teams play against Spurs they don't play that way. They back up against them and they find it hard to create.
"If Paulinho could finish he'd be on the same amount of goals as Aaron Ramsey. He'd be on eight or nine goals by now because he gets in fantastic positions. He played a bit deeper today.
"They need to get Dembele higher up the pitch where his ability can hurt the other team. He showed that today.
"There's a lot of things they can improve on."