Football Expert & Columnist
Jamie Redknapp: Swansea players must prove themselves after Michael Laudrup exit
Jamie Redknapp says we'll see how much Swansea's players didn't like Michael Laudrup against Cardiff.
Last Updated: 06/02/14 12:48pm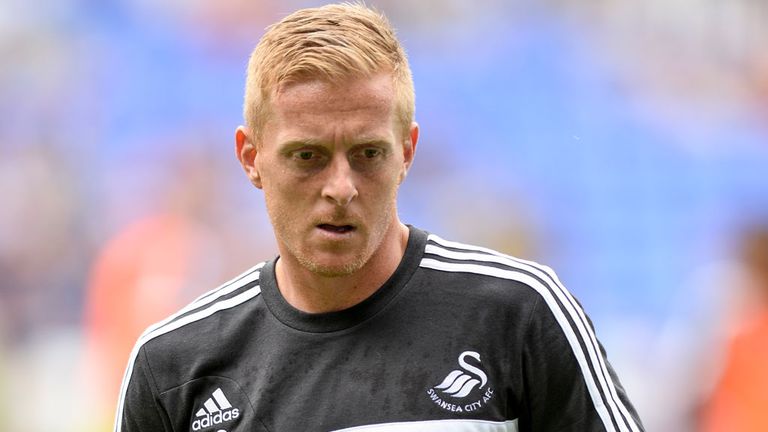 After watching their opening defeat against Manchester United I honestly thought they had players that were capable of pushing for a European place.
So it's not really a big surprise to me that Michael Laudrup has lost his job because with the team two points above the relegation zone something, somewhere has gone wrong at that club.
Sometimes you see a manager work with the previous manager's team for a year and then in the second year he has to do it with his own team and he's not capable - we saw it with Andre Villas-Boas at Tottenham and it's pretty much a case of the same situation with Laudrup.
Brendan Rodgers, Roberto Martinez and all the managers that had gone before him at Swansea had built a philosophy and I think he found it hard to take the team to the next level and motivate them.
There's no doubt the players haven't looked happy. There's lots of rumours on the football grapevine that the players had been talking to the owner to say they weren't happy with the manager.
In modern football, chairmen speak to players to ask them if they're happy about things or not. It happened to me at one of my clubs towards the end of my playing career and it's something I was uncomfortable with - but that's modern football.
I'm guessing - and I don't know for definite - that's happened at Swansea, but it's clearly an awkward situation and the fact this decision was made in the week of a big derby match against Cardiff shows you just how wrong things have gone.
Factors
There are a number of other factors behind this decision, though, not least results and the performances of the players.
People might point to the fact he isn't very animated in the dugout, but that's the same Laudrup that I saw win the Capital One Cup Final. That's his style and I don't think that's the reason for this.
I think it's to do with his ability to motivate the team, the players he's brought in and their failure to score enough goals. They are playing a similar style to last season, but you don't get a goal for completing eight passes.
Believe me, I'm a passing man and nobody loves to see a passing game more than I do. I grew up at Liverpool when I was taught every day of the week to pass the ball to your own team-mates.
However, football is all about scoring goals Swansea have almost got to the stage where they are passing for passing's sake.
I also think Laudrup is a victim of circumstance to some extent. If Michu was fit he'd probably still be manager because he's such an important player for them - but those are the cards he was dealt and there's not a lot he could have done about that.
Now we are going to find out how much the players didn't like Laudrup.
The man in charge for now is Garry Monk, who is a decent centre-back and is liked by the players. After being captain for so long he has plenty of leadership qualities.
It's a huge gamble to appoint someone with so little experience, but they clearly respect him and he's been at the club since 2004 and will have learned from the likes of Martinez and Rodgers, so he knows the style they are looking for.
This is a squad of very good players and they should not be two points above the relegation zone. They are a much better side than that.
Now it's up to the players to pull their fingers out and start playing to their maximum ability because they haven't so far this year. They have been really disappointing.
They've got leaders in the team like Ashley Williams - who I'm a big fan of - but he hasn't performed and in midfield it looks like they've lost a bit of balance and ability.
Chico has been a major disappointment and it will be interesting to see if Monk plays him after reports of the two of them having a bust-up.
I look at him as a real weak link and not just because of his appalling behaviour against West Ham last week, but because of the way he defends. He seems to defend for himself rather than for the team.
Aspirations
There's no better way to find out what the players are made of than a derby match against Cardiff. If the players aren't up for this one on Saturday night then they're going to get beat.
If Monk has any aspirations of being the full-time manager then this is the sort of game that could get him half-way up the ladder. Huw Jenkins will hope the new manager can get them going again, but if they lose it they are on a real downward spiral.
Cardiff had a great result against a poor Norwich side last Saturday, but we will find out more about them this weekend. I think Wilfried Zaha has made a brilliant loan move and could get his career back on track at Cardiff, so I hope Ole Gunnar Solskjaer starts him.
They've also signed Kenwyne Jones who I played with at Southampton and he's fantastic in the air but he's so laid back he's vertical.
When he's up for it and is feeling aggressive he's almost unplayable, especially if you can get wide players like Zaha feeding balls into him so he could terrorise Swansea on Saturday.
If I was Cardiff I would view the Laudrup situation as a real positive. It's a 5.30pm kick-off at the Liberty Stadium and make no mistake, the atmosphere will be fever pitch. This is one where Solskjaer will tell his players to go there and quieten them down in the first 30 minutes.
If they can do that, like Chelsea did in the lion's den at Manchester City on Monday night, then they could get a result. If they avoid conceding an early goal then a few nerves could creep in to the Swansea players and they could get edgy.
But I have the feeling Swansea will win this. I've seen it so often when a manager gets sacked just before a big game live on Sky. It's almost like "the curse of Sky".
But with a new man in the dugout and the crowd behind them, I think the home team are good enough and I think Wilfried Bony is the likely match-winner.
I'm going for a 2-1 win for Swansea.