Football Expert & Columnist
Aston Villa v Chelsea: Ramires tackle one of the worst I've seen, says Jamie Redknapp
Jamie Redknapp says Ramires' red card tackle one of the worst he's seen in Chelsea's loss at Villa.
Last Updated: 16/03/14 5:02pm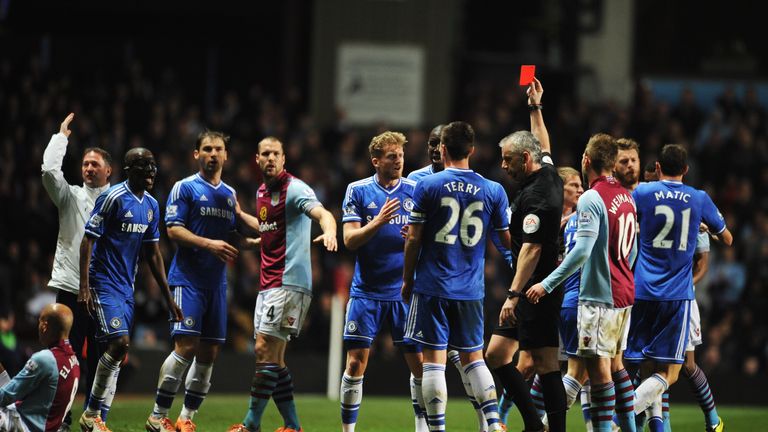 Willian was first to be dismissed for the Blues in the second half for two yellow cards before Fabian Delph struck a fine goal with just eight minutes remaining to put the home side in front in what had been a fairly inconspicuous game up to that point.
Ramires was then shown a straight red by referee Chris Foy for a late challenge on Karim El Ahmadi and Jose Mourinho was sent to the stands for entering the field of play while complaining.
Sky Sports expert Redknapp told Saturday Night Football that the Brazilian's challenge was 'one of the worst' he's seen.
"This is horrendous, there's no other way to describe it," said Redknapp.
"It's one of the worst tackles I've seen in an awful long time; there's a lot of frustration in it.
"We've all made bad tackles but this... he knows exactly what he is doing, he goes right over the top of the ball and El Ahmadi is extremely lucky that he doesn't get his leg broken.
"It's a three-game ban but it could be even more because it's just nasty, it's an awful tackle that we don't like to see in the game.
"The good thing was that the referee saw it and acknowledged it because I wasn't sure at first whether Chris Foy had seen it but I'm thankful he did because that is a horrendous tackle."
Blown open
Redknapp also believes the defeat - which leaves Manchester City within six points of Chelsea with three games in hand - has blown the title race back open again with fellow rivals Arsenal and Liverpool still to play on Sunday.
He added: "What this has done is blow it wide open, they didn't perform today I felt, certainly offensively to only have two shots on target.
"Fernando Torres was just not up to it today, I've said it too many times for him and that is why Jose feels his team aren't ready to win the league, it's as simple as that.
"Offensively they're not good enough, they've got players that can score goals in Hazard and Oscar but just that one man up front to make the difference in these types of games - they haven't got it.
"This is a good result for Liverpool and a good result for Arsenal. There'll be a lot of fans at home happy and a lot of players thinking 'that's exactly what we wanted tonight'."
What did you make of Ramires' tackle? And has this defeat blown the title race wide open again? Leave your thoughts by commenting below.