Football Expert & Columnist
Arsenal 1-1 Man City: Jamie Redknapp says Mathieu Flamini role is vital
Jamie Redknapp says Mathieu Flamini - and the FA Cup - are vital for Arsenal for this season.
Last Updated: 29/03/14 8:30pm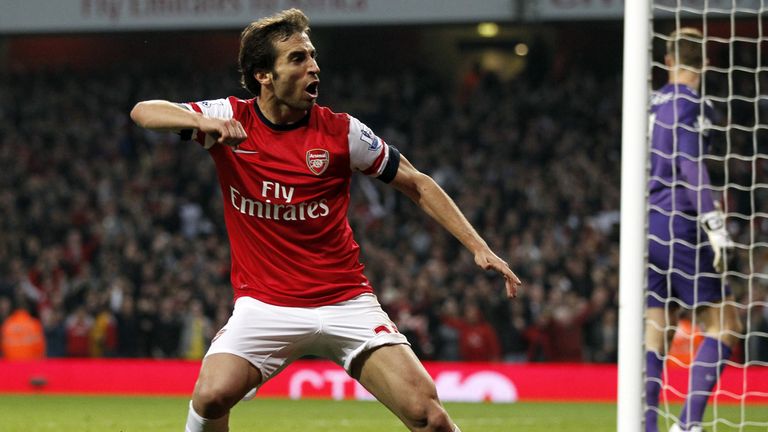 The Frenchman scored a surprise equaliser for the Gunners in their 1-1 draw with Premier League title favourites Manchester City and impressed in a midfield role alongside Mikel Arteta.
Redknapp said Arsenal benefited from having two hard-working players in the centre of the pitch and called on Wenger to use that duo more often in crucial matches, at least until he signs a younger player who can do a similar job.
"He's a player you wouldn't expect to come up trumps, but I felt he made the difference," he said when analysing Flamini's performance on Saturday Night Football.
"It begs the question why doesn't Arsene Wenger play him in these sorts of games. You look at what Jose Mourinho does in big games sometimes - and he goes with Luiz and Matic, belt and braces, and he will stop other teams playing.
"I look at Arsenal and think that in midfield areas where it gets tight and you've got to stop other teams and you can't just have pretty footballers.
"You've got to have players that are going to get the ball to Santi Cazorla. Do I think he's the long-term answer? They got him on a free transfer at the start of the season and almost stumbled across him.
"But they need someone like that, someone who is going to win tackles. To ask Arteta to do it is just too much. He hasn't got the legs to do it."
Crucial
Arsenal travel to Everton next week in a game that will be crucial for their hopes of finishing in the top four, before heading to Wembley to play Wigan in the FA Cup semi-final the following weekend.
And while Redknapp says Champions League qualification is important for Arsenal, he believes the FA Cup should be the priority.
"If you could have one or the other I think Arsene Wenger would probably take the top four," he added.
"But I think for that club now you've got to win a trophy. Nine years is too long. They need those big moments; any player, when you finish your career, talks about those big moments and what you won.
"You don't think about qualifying and finishing fourth and then going out in the quarter-finals [of the Champions League]. They need to win a trophy.
"Financially, of course it's better for them to get in the top four, but it's been miles too long. Arsenal fans want to see silverware back there. That club has been built on winning trophies.
"Whether it's the FA Cup, Capital One Cup or the league they've got to start doing it. This is the year.
"If he doesn't win a trophy this year he'll never win one. He'll never get a better opportunity."