Football Expert & Columnist
Luis Suarez deserves Player of Season award after taking Liverpool to next level
But Chelsea's 'weaker' team will still be a threat...
Last Updated: 25/04/14 3:07pm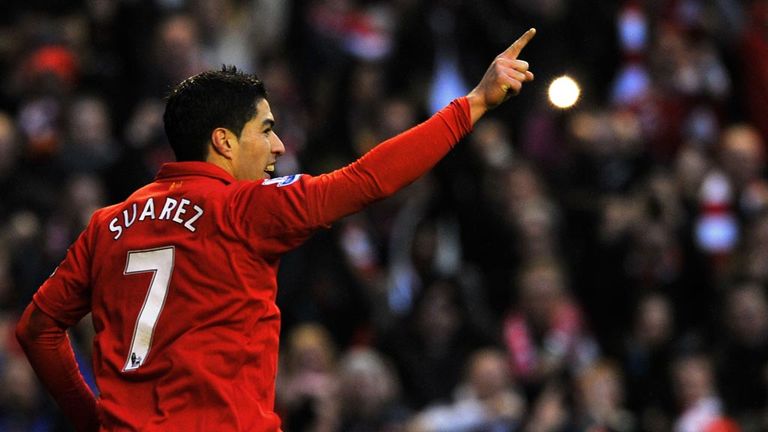 One year on, the Uruguayan is preparing to face the same opposition on Sunday, knowing a win will all-but secure the Premier League title for Liverpool - and he should pick up the PFA Player of the Year award later that evening, too.
If anyone doesn't vote for him I'd have to question who they've been watching because it's been a brilliant individual performance from him this season.
When you look at the other people in the running for the PFA award, there's no question he's the one who has had the biggest impact on his team this year - and by a long way. He's taken Liverpool to another level.
He's scored 30 Premier League goals, despite missing the start of the season and not taking penalties, and left the problems he's had before so far behind him. He's the same player as last season without the grief and the hassle.
I couldn't say he'd never do anything rash again because he plays more on the edge than anyone I've ever seen but this year his performances and conduct have been exemplary.
Check out Sky Bet's Premier League odds now
Liverpool manager, Brendan Rodgers, deserves a lot of credit for that; he's done a great job with Suarez. He had a tough situation at the start of the year, with his best player wanting to leave and Arsenal sniffing around, but he managed it really well and now it's a great situation for the manager and player.
There's nothing to say that in a couple of weeks' time Suarez won't announce: 'I've done my bit, I'm off', but not only is he perfect for Liverpool and idolised there, but crucially the club can fulfil his ambitions too - they'll be in the Champions League next season and potentially as Premier League title-holders.
Selection
Liverpool can take a giant step towards claiming the trophy with a win over second-placed Chelsea on Sunday.
Unfortunately the build-up to this game has been dominated by Jose Mourinho suggesting he may field a 'weaker' side because of Chelsea's Champions League semi-final with Atletico Madrid.
To be honest, I'm already bored of it. It's typical Mourinho - if he's not moaning about his forwards or blaming referees, he's telling us he's going to play a weaker team. Well, he wouldn't be playing a weaker team if he'd done better in the league, would he?
If Chelsea were winning the league by three points - and hadn't lost to the likes of Aston Villa, Crystal Palace and bottom-of-the-league Sunderland - he wouldn't be playing a weaker team. That's the simple fact. He knows it looks like their race is run and he's looking at excuses.
The other issue I have with his comments is it's not as though he'll be putting out the under-12s. You pick your squad of 25 at the start of the year and whichever XI he puts out will probably be worth more than Liverpool's XI and a team of internationals.
Whatever he does, it's his decision. If they get through against Atletico and go on and lift that cup, which isn't impossible, then we'll say good decision. But I'm not going to start feeling sorry for him because the only reason he's doing this is because he doesn't feel he can win the league.
Atmosphere
The important thing for Liverpool is that they concentrate on what they have to do and not worry about what Mourinho is saying.
They can't be fooled into thinking Mourinho's not going to play his best team because it wouldn't shock me if he did play his strongest side. Chelsea have strong players and are capable of shocking Liverpool so the home side need to be prepared properly.
The big thing in their favour at the moment, though, is the atmosphere at Anfield. I was there for a charity game last week and the place is absolutely jumping. I've never seen anything quite like it and I was up there for 11 years. It's fever pitch.
The fans are playing a huge part in this title challenge - the positivity they get into the stadium is intimidating opposition players and adding so much to what Liverpool are doing. It's been a team effort; it's not just about the manager or the players but also the fans.
Teams such as Manchester City are going to Anfield and in the first half it's like 'wow, we're getting hit by a tidal wave'.
Jamie's backing Liverpool to win 2-1 with Sky Bet
Liverpool have started every game so quickly this year. They've scored more goals in first halves (58) than 16 Premier League sides have managed in total all season.
In fact, they've scored more in the first 45 minutes of HOME matches than Sunderland, Cardiff, Norwich and Crystal Palace have scored in total home and away. It's been brilliant to watch.
I expect another amazing atmosphere and quick start this weekend and reckon Liverpool will win 2-1.
That will leave them with matches against Crystal Palace and finally Newcastle at home - the match everyone wants at the moment - to wrap up their first Premier League title win in 24 years.