Football Expert & Columnist
Eden Hazard is the difference so why is Jose Mourinho picking a row with him?
Jamie Redknapp says Jose Mourinho must keep Eden Hazard on side or risk losing all Chelsea's spark.
Last Updated: 05/05/14 10:09am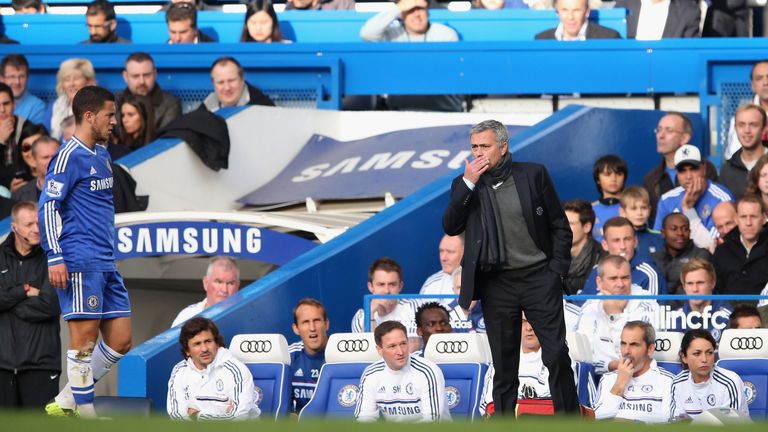 Chelsea were held to a 0-0 draw by Norwich at Stamford Bridge on Sunday, a result that leaves a huge dent in their Premier League title challenge. Midfielder Hazard, who has scored 14 goals this season, started on the bench after he made comments in midweek criticising Mourinho's tactics.
The Portuguese boss hit back at the Belgian's words, made after their Champions League exit to Atletico Madrid to a French TV company, saying he expected it "from players like him".
Sky Sports expert Jamie Redknapp says the Blues will suffer if Mourinho continues to have rows with his creative players.
"It's a war you don't really need to have," said Redknapp. "Jose said they weren't good enough in the first half, it was simple why: because Eden Hazard didn't play. They were poor, lethargic, they didn't have that energy; he came on to that pitch in the second half and was a different class.
"Jose thrives on confrontation; he likes to have a row with everybody that he can, but one row I don't understand that he is trying to have at the moment is with Hazard. If you lose him you are going to suffer, no doubt at all.
"They've already lost one creative player, who he decided to get rid of in Juan Mata."
Complained
The draw puts Chelsea almost out of the title race with both Manchester City and Liverpool a point in front with a game in hand and a far superior goal difference.
Redknapp says dropped points against opposition they should beat - draws with West Ham, West Brom and Norwich, losses to Aston Villa, Crystal Palace and Sunderland - is not good enough for a team who have spent so much money.
"Whoever loses this title will look at it and think they've thrown it away. The fact is that on March 8 they were seven points clear," he said.
"They've dropped points and have not been good enough to beat sides that they should with the quality they have here, whatever way you look at it.
"Sunderland at home and this result today - they're just not good enough with all the creativity they've got and all the money they've spent.
"Jose has complained a lot about teams sitting back but that's what they do to teams perfectly well when they go away from home; they did it perfectly well last weekend away at Liverpool and then they find it hard to break teams down.
"They're crying out for an outstanding centre forward, we all know that, but they still should have enough players to unlock the door here."
Fellow Sky Sports expert Glenn Hoddle added: "He almost had pride in saying: 'I told you so, I told you we weren't good enough this year.'
"It's a very strange thing for Jose Mourinho to say because he's very positive normally and very assertive.
"He would get in other teams' heads and now it's gone the other way."