Football Expert & Columnist
Uruguay v England: Luis Suarez return will boost team-mates, says Jamie Redknapp
But Sterling can exploit replacement right-back
Last Updated: 19/06/14 1:58pm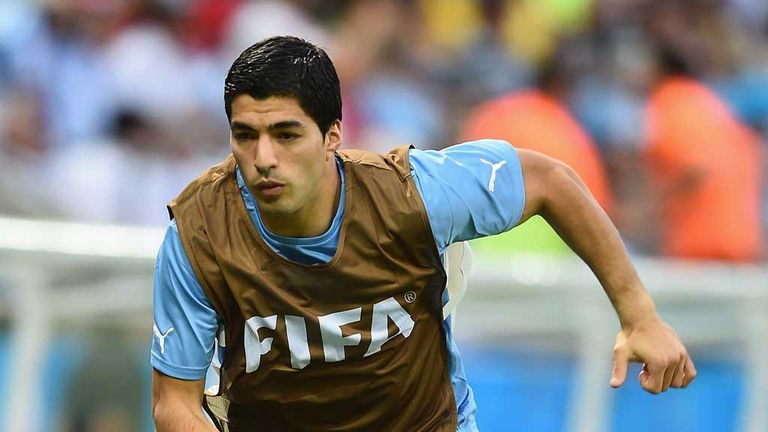 The return of Luis Suarez will give Uruguay a huge confidence lift ahead of their World Cup clash with England, even if he's not fully fit, says Jamie Redknapp.
Neither team can afford to lose their Group D meeting on Thursday after suffering defeat in their opening games in Brazil.
However, Sky Sports expert Redknapp reckons the Uruguay team – who surprisingly went down 3-1 to Costa Rica in their previous game – will be boosted by the return of Liverpool striker Suarez.
The forward is back in training as he recovers from knee surgery and says he is ready to face the Three Lions in the crunch contest.
Speaking on Sky Sports' World Cup Podcast - which you can download here – Redknapp said: "Uruguay can play a lot better than they did against Costa Rica, where they were awful.
"And with Suarez coming in you sense the whole nation and the players around him will be buoyed by that. He'll bring that bit of confidence.
"Suarez will be trying everything he can to get that edge on England."
Change
The Uruguayans have mentioned it's do or die for them and it's the same for us. I can see this being a real battle and something has to give.
Jamie Redknapp
Redknapp says England boss Roy Hodgson can take plenty of positives from his side's 2-1 loss to Italy, though – and believes switching the positions of Wayne Rooney and Raheem Sterling could cause the Uruguayan defence serious problems.
Sterling won plenty of plaudits for his performance against the Azzurri, while critics have suggested Rooney was far from his best on the left, although the Manchester United man did assist Daniel Sturridge's leveller.
However, with Uruguay right-back Maxi Pereira suspended, Redknapp wants to see pacey Sterling moved to the left and Rooney restored to the number 10 position.
"I think Rooney has to come back into a number 10 role," he said. "It didn't work with him playing out there and making the goal in the first half got him out of jail a little bit.
"By shunting him out to the left wing [Hodgson has] said to him 'you're not my main striker, go and do a job for me out there.' It's difficult now because Wayne's lost that little bit of confidence – and he was under immense pressure before this started.
"Hopefully he can get that bit of confidence back and get that goal. Hodgson says it's a national obsession but he's almost made it that by putting him out on the left wing.
"If you look at Uruguay, the right back is suspended and they're going to have a weakness in that area, so you want to play someone who's used to playing out there; it might have to be Raheem Sterling who goes out wide left.
"He's played there a lot for Liverpool, he's got tremendous pace and he'll get at him as much as he can."
Tense
While a draw would not mean the end for England's World Cup ambitions, Redknapp is expecting a tense game – and predicts that there could even be red cards dished out as the pressure mounts in Sao Paulo.
"I can see this being such an edge-of-the-seat game with bookings and sendings off. I'd be amazed if it's 11 v 11 by the end of the game," he said.
"The Uruguayans have mentioned it's do or die for them and it's the same for us. I can see this being a real battle and something has to give.
"If you get beat you'll be coming home early and that's not what you want when you go to a major tournament, with all the build-up and excitement that comes with it.
"It's been such a good World Cup you don't want to leave this party early."
To hear more from Jamie Redknapp plus Andy Burton, Kate Abdo, Nick Collins, Dale Tempest and more, download the latest Sky Sports World Cup Podcast here or listen via Soundcloud below.