Football Expert & Columnist
Liverpool v Southampton: Adam Lallana and Rickie Lambert competitive debuts live on Sky Sports
Jamie Redknapp says duo must beware of emotion on opening Super Sunday
Last Updated: 15/07/14 12:23pm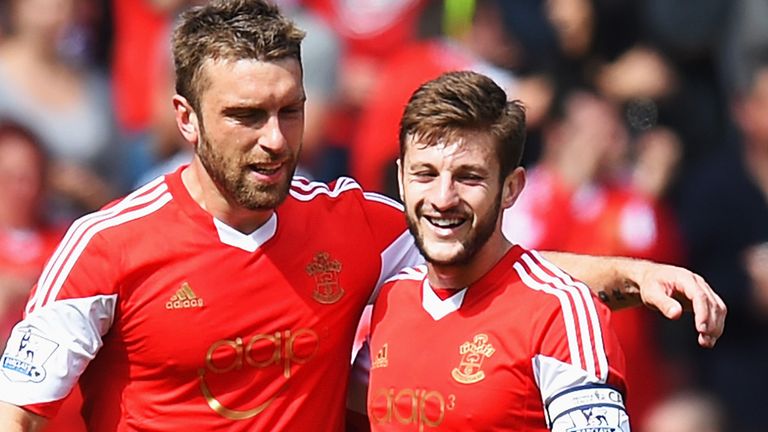 Jamie Redknapp says Adam Lallana and Rickie Lambert need to keep their emotions in check on the first Super Sunday of the season.
The England internationals both moved from Southampton to Liverpool over the summer and, thanks to the fixtures computer, are set to make their competitive Anfield debuts against the club they've just left.
Sky Sports pundit Redknapp played for both sides during his career and says that facing former team-mates is always difficult – and the emotions will be even more heightened in a live televised game on the opening weekend.
"I'm really looking forward to the opening Sunday with Liverpool against Southampton," he said.
"Adam Lallana and Rickie Lambert will be playing for their new club and against their old club, so it will be a very emotional day for them – but one that they will be absolutely looking forward to and buzzing for.
"The start of the season always brings the extra little bit of nerves and even more so when you're playing against your old club.
"It is very difficult. I remember the first time I had to go back to Liverpool when I was playing for Tottenham and it's hard.
"Sometimes you get carried away with the whole occasion and you have to manage that carefully, but there will be so much excitement playing for Liverpool with the crowd and the Kop.
"It's alright going to watch it, but when you're playing and you walk out onto the pitch and they're singing 'You'll Never Walk Alone', then the hair will be standing on the back of their necks and they will be absolutely buzzing for the game to start."
The game will be Liverpool's first competitive clash since the departure of Luis Suarez to Barcelona and Redknapp has backed Lambert and Daniel Sturridge to fill the void left by last season's leading scorer.
And he says that the Uruguayan was always likely to leave this summer, even before his now infamous bite on Italy's Giorgio Chiellini at the World Cup.
"I don't think they had any option in the end," Redknapp added.
"People have spoken about whether the biting situation at the World Cup may have had an impact on it, but I don't really think it did.
"I just think it was a situation where he gave them a brilliant season last year and he wants to leave and go somewhere different. It's obviously a dream to go and play for Barcelona so you have to let him go now.
"What can't keep happening year-in and year-out is that 'is he going to stay or is he going to go?' Liverpool are a big club who've always had big centre-forwards – you go back to Toshack, Keegan and Dalglish and in the modern era, Fowler, Owen, Torres and Suarez.
"The key now for Liverpool is to go and find the next superstar. I'm sure they will. They've got a great scouting system there.
"Rickie Lambert comes in as a completely different player to Luis Suarez and is a really good signing for £4million and people like Daniel Sturridge have got to stand up. His opportunity is to be the main striker at Liverpool.
"They need someone to step up and fill a brilliant player's boots."
You can watch Liverpool v Southampton live on Sky Sports on Sunday August 17