Football Expert & Columnist
Jordan Henderson and Jack Wilshere must step up for England, says Jamie Redknapp
Sky Sports pundit backs midfield duo to shine, despite lack of options
Last Updated: 03/09/14 7:06pm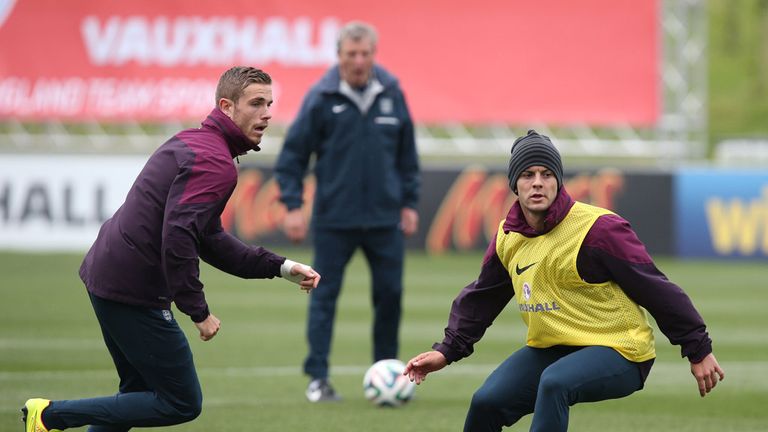 With so few options available, Jordan Henderson and Jack Wilshere must establish themselves as the future of England's central midfield.
That's the view of Jamie Redknapp after Roy Hodgson named the duo as his pairing for Wednesday's friendly international against Norway.
We do need to be producing more central midfield players. There isn't that many out there at the moment, with people like Ross Barkley injured.
Jamie Redknapp
Steven Gerrard and Frank Lampard retired from international football after the World Cup and with Michael Carrick and Ross Barkley out injured, the England manager was left with few options ahead of the start of the Euro 2016 qualifying campaign.
Fabian Delph and Jack Colback have been called up to Hodgson's squad, but Redknapp - who played 17 times in central midfield for England - says it's time for Wilshere and Henderson to step up on the international stage.
"At the moment, we haven't got a great deal of options," he told Sky Sports News HQ.
"Jack Wilshere has taken a lot of criticism from certain quarters because we expect so much of him. When he broke into the team as a young man, he looked like he was going to set the world alight.
"Things haven't gone perhaps to plan. He has had a lot of injuries, but started the season OK and had his best game in an Arsenal shirt in a long while against Beskitas. He ran that game, dominated midfield, ran, broke, passed, played one-twos around the box and that's exactly what we expect from him.
"Jordan Henderson, on the other hand, has been in really good form for a long while. International football is a different set-up altogether for him and I think he's got to grow into that.
"He has tremendous energy and in the Premier League he is one of the best midfielders; I think it's important he takes that to the international stage. I genuinely believe he can.
"We haven't got a lot of options apart from that. Fabian Delph is in there and is a young man and a good footballer, but we do need to be producing more central midfield players.
"There isn't that many out there at the moment, with people like Ross Barkley injured."