Liverpool boss Brendan Rodgers is targeting a strong Premier League finish
Brendan Rodgers is confident Liverpool can mount a charge for a Premier League top-four finish.
Last Updated: 18/02/13 2:01pm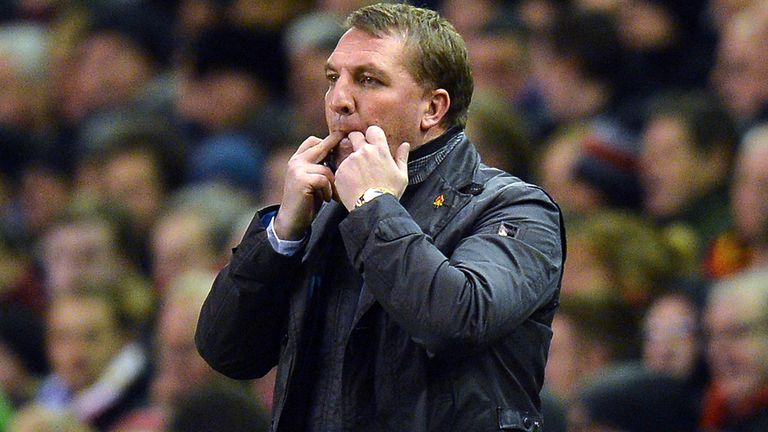 The Liverpool boss was delighted with his side's comprehensive victory at Anfield, which took them back up to seventh in the table and nine points off fourth-placed Tottenham.
Liverpool have now scored 17 goals and conceded just two in their last five home games, yielding 12 points. And while Rodgers will not allow complacency to infiltrate his squad, he believes his side are gearing up for a strong finish to the season.
"I am an optimist, you have to be, but we'll not get too carried away," he said. "I've likened us to a marathon runner just getting ready for the finish line, ready to make our move, and then we trip ourselves up.
"That is something we have to change going forward for the remainder of the season and finish as strong as we can."
The slip-ups came earlier in the week as having lost 2-0 to West Brom, ending a run of three successive Anfield victories, they also lost by the same scoreline to Zenit St Petersburg in the Europa League.
But, with Swansea manager Michael Laudrup doing his predecessor a favour by naming an understrength side as he looks to Sunday's Capital One Cup final, Liverpool were able to take advantage.
"It was an important three points," said Rodgers. "We've had a bumpy road in terms of games Monday and Thursday but the Premier League is very important for us and we knew we had to show focus and determination.
"I don't think you can take anything away from the Liverpool players but it (the final) was something Swansea were thinking about.
"It was a brilliant performance and it's a big applause to the players because their attitude was fantastic throughout the game.
"It was important for us today for a clean sheet, believe it or not even though we scored five goals and I think we had 35 shots.
"It was our main focus going into the game was about being defensively solid and compact against obviously a Swansea team and players that I know very well.
"So all round a fantastic performance and a good three points for us."