Saturday summary
United stretch their lead, Arsenal leave it late and Wigan steal a march... Soccer Saturday reacts.
Last Updated: 06/03/13 1:57pm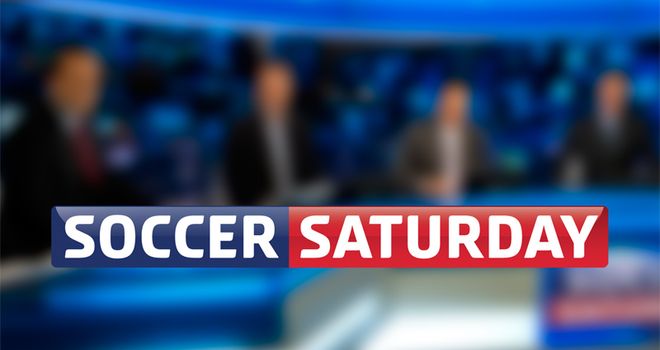 Paul Merson on a routine win for United over sinking QPR
QPR 0-2 Man Utd: Read our match report here
"This was second gear for United. Ryan Giggs was unbelievable and he's nearly 40 years of age. The first goal is one in a million. Cesar parried it a long way out and Rafael just takes a gamble, gets in front of Townsend and hits the ball top corner. The goalkeeper, who's a top drawer goalie, just stands there.
"I can't remember QPR having a shot and then Remy came on and had a great one. De Gea saved it. Samba had one cleared off the line. Then Giggs made it safe. Bosingwa got beaten when he was 70-30 and just dangled his leg. I wasn't the bravest when I played, don't get me wrong, but he just dangled it. Nani flicked it round the back of the defence and there was only one outcome. Danny Welbeck gets better and better every time I watch him.
"Giggs should be the first player on the team sheet. He shouldn't pack it in. The first time he gave the ball away was the 78th minute. I can't talk highly enough of him.
"Usually you talk about how many goals midfielders score you if you're talking about being a top team but to have 12 goals from defenders this season is massive for United. I bet there are teams in the league that haven't got 12 goals from midfield. As for Taarabt, he didn't make stuff happen. He made nothing all game long. I don't see how QPR are going to get out of this at the moment. They have to beat Sunderland."
Matt Le Tissier on a narrow but crucial win for Arsenal
Arsenal 2-1 Aston Villa: Read our match report here
"It could be crucial for Arsenal's confidence more than anything. If they'd have gone through another home game without a win, it could have dented it. On chances, they deserved to win but Villa did look dangerous on the break. If Arsenal gave away possession, the front four of Villa looked very quick to get forward.
"It wasn't a massive surprise when they equalised, although Wojciech Szczesny will not want to see that again. An Arsenal side of the past going a goal up in the first five minutes, you'd expect them to go on and batter a team. They're lacking a killer touch. Teams in the past would have used that first goal to pummel and be two or three up at half time. They're not like that anymore. They didn't look capable of killing the game off and that's why they had to wait until the 85th minute.
"They're creating chances but not very clean cut chances. Olivier Giroud missed a couple. They used to create clear-cut chances and you wouldn't be surprised if they won 7-0 or 8-0. This team don't do that.
"As for Villa, there's a lot of ability in that team. The front four don't look like the front four of a team that's going to get relegated, but at the other end they look a bit vulnerable. That would be the area to work on.
Charlie Nicholas on a comeback victory for Norwich
Norwich 2-1 Everton: Read our match report here
Norwich looked like a team that lacked a bit of a belief in terms of getting Wes Hoolahan and Robert Snodgrass on the pitch to start delivering to the forwards. They were playing on the halfway line too much. When they get higher up, the big difference comes.
David Moyes will be the confused one, though. He'll be sitting looking at this game thinking they didn't play well but still should have won. It was a strange game.
It was all about the last 15 minutes for Norwich and credit to them. Looking at them, they looked like a team slipping into the relegation fight and this was a massive three points for them. Chris Hughton could have easily taken Grant Holt off but he stuck with the two strikers.
Kei Camara had already missed a good chance from a lovely Hoolahan cross by the time he scored. Everton are very good at defending corners but he gets the run on Fellaini eventually and headed it down. It was a really good goal. Everton looked tired towards the end and the one who should have come off was Nikica Jelavic, who missed a good chance.
Paul Walsh assesses West Brom's solid win over Sunderland
West Brom 2-1 Sunderland: Read our match report here
Romelu Lukaku was a real handful for the whole game. He and Shane Long work well as a partnership because Lukaku wants it to feet and Long wants to run channels and stretch defences.
It wasn't a great game. On the Sunderland side you also had Steven Fletcher and Danny Graham partnering eachother in attack for the first time. Graham flicked one into Fletcher, who hit the post. That was possibly one of the only chances Sunderland had. I didn't see them linking up but you've got to give it time. The trouble for Martin O'Neill is Stephane Sessegnon because he's the most talented player and he's stuck out on the wing.
In about 15 minutes, the game exploded into life. It was either mistakes or decisions that the game was decided on. For me, it has to be a penalty as Craig Gardner moved his hand down. Lukaku stroked it home quite nicely and you have to say West Brom probably deserved it on possession and better chances. They've flown high early on but anywhere in the top half will be a result for West Brom.