Wilshere - Get in their faces
Jack Wilshere has told Manchester United if they want to beat Barcelona they must 'get in their faces'.
By Rob Parrish - Follow me on Twitter @skysportsrobp
Last Updated: 27/05/11 2:59pm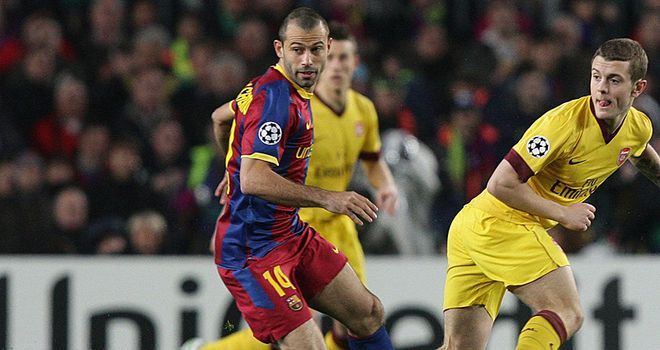 Jack Wilshere has told Manchester United if they want to beat Barcelona in the UEFA Champions League final they must 'get in their faces'.
The Arsenal midfielder has experienced both joy and despair against the Catalan giants this season, helping the Gunners record a memorable first-leg victory in their last-16 clash only to see that advantage overturned in Camp Nou.
Young England international Wilshere knows the Red Devils will have to maintain their discipline against Pep Guardiola's star-studded side at Wembley and admits they have a better chance than Arsene Wenger's men of overcoming the Spanish giants.
"Three passes - bang, bang, bang - and they are through. You have to get in their faces. I have said it before: you really have to hold your shape," Wilshere said.
Kill you
"United will be good because they have the players like Fletcher who will get after Barca. You have to stop players like Xavi, Messi and Iniesta or they will kill you.
"United have a better chance than we have. They have players like Fletcher, Park, Valencia. They are all 'runners' and they can stop players. I would play Fletcher, just doing what he normally does - running everywhere - and then Carrick and Giggs.
"We played with just Robin van Persie and I would play with just Rooney, with Valencia and Park helping when they get the chance to get forward. For most of it they will be defending because that is what Barcelona do to you."
Wilshere also believes that Barcelona have a tendency to allow their intensity to drop in the second half of matches, but accepts that the Gunners' hopes of victory in the last eight were scuppered by Robin van Persie's red card.
Ease off
And while he has given Sir Alex Ferguson plenty of pointers on how to tackle the Spanish giants, the Arsenal youngster still believes it will be Barcelona who lift the trophy on Saturday evening.
"If you can get in their faces they seem to ease off in the second half," he added.
"We did that in the second half [of the first leg]. I don't think they get tired but you really have to go for them. We beat them at home.
"Obviously the away leg was a different game. After we went down to 10 men we had no chance.
"I think it will be Barcelona because of the way they play. It's the way Arsenal play and the football I like. So if anyone deserves to win, it's Barcelona."