You must take Roo
Jamie Redknapp says Wayne Rooney should go to Euro 2012, even though he'll miss the group stage.
Last Updated: 14/10/11 9:57am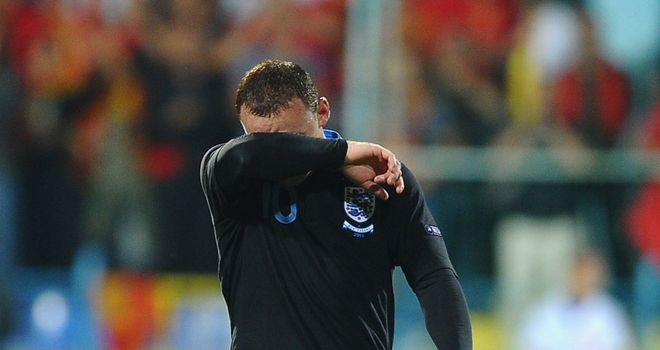 Jamie Redknapp says England should still take Wayne Rooney to Euro 2012 - even though he will miss the whole of the group stage.
Fabio Capello's fears were realised on Thursday evening when the UEFA Control and Disciplinary Body confirmed the striker will serve a three-game ban following his red card for kicking out at Miodrag Dzudovic in the 2-2 draw with Montenegro last Friday.
That means the Manchester United man will miss the whole of the group stage next summer and the England coach must now decide whether to include him in his 23-man squad.
However, former international midfielder Redknapp says there's no doubt he should be included because he could still have a huge impact if England reach the quarter-finals.
"You've got to take him," he told Sky Sports News.
"You've got enough players there. I've heard people saying don't take him, but you've got to have Wayne Rooney in the squad.
"He's our world-class footballer. What are you going to do? Teach him a lesson? I don't see it like that, you need Wayne Rooney there.
"It's a shame because you want to see him out there because he's our catalyst, our talisman and he's the one person that can do something different.
"That's football unfortunately. If you make mistakes, that's what's going to happen to you. You can't expect leniency when you've committed the crime. You have to accept the consequences."
Disaster
The Football Association are now likely to appeal the decision, but Redknapp sees no reason why European football's governing body should show any leniency.
And he admits it's a huge blow for the nation's hopes of progressing in Poland and the Ukraine.
"It's a disaster for us to have a player like Wayne Rooney out for the first three games," Redknapp added.
"That would be the rule in the Premier League and I'm sure the FA will now appeal and hopefully it works for them.
"It's not great for the tournament. The world of football will be watching and you want to see Wayne Rooney, but unfortunately he's made a mistake and that's what happens in football sometimes.
"They're not there to do you any favours. FIFA, UEFA or whoever makes these decisions are there to call it as they see it. The referee has obviously looked at it as violent conduct and that's what the call is.
"It's a massive loss for us because he is such an exceptional footballer."
Perform
Capello must now assess his attacking options ahead of the tournament with players such as Andy Carroll, Danny Welbeck, Darren Bent, Bobby Zamora, Jermain Defoe and Daniel Strurridge set to fight it out for a starting berth.
And Redknapp feels Rooney's suspension opens the door for one of those players to make an impact on the international stage.
"I just hope the rest of the players, whoever comes in and plays up front, can perform well," he said.
"Now the pressure's on the other players because they've now got to step up and we've got to do this without Wayne.
"If I was Daniel Welbeck or Andy Carroll I'd be looking at this as my opportunity to cement a place and play in a European Championships and make it as difficult as they can to pick him when he's back."