Peter Beagrie
Football League Expert & Columnist
Blackpool power
Peter Beagrie analyses the play-off hopefuls and tips Blackpool to reach the Premier League.
Last Updated: 02/05/12 3:49pm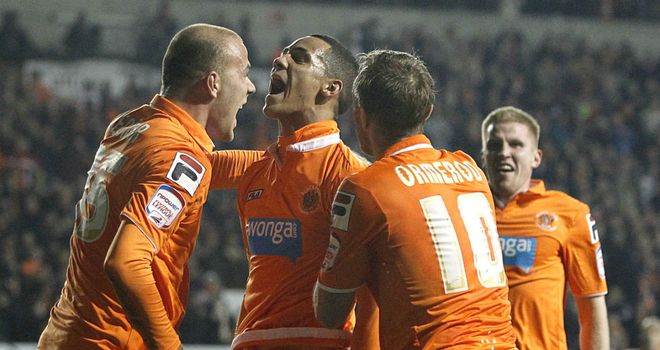 They say the play-offs are a lottery and four teams have a ticket, but which side has the golden one?
You could make a case for any of them - West Ham, Birmingham, Blackpool and Cardiff have all had good seasons - and while I am tipping Ian Holloways' side it could go either way.
If you look at the points tallies in their last 10 games it shows that all of this quartet are in good form. West Ham and Blackpool have picked up 19 points from their last 30, Cardiff have 18 points and Birmingham have 17. There have only been three losses amongst their last 40 fixtures combined.
So in terms of momentum and form there's not a lot to choose between any of them and that's why the next fortnight is going to be so exciting.
As a former player, I just hope the games are settled by moments of magic rather than monumental mistakes. In these big matches, it's all about who can play the game rather than the occasion and that's where the managers earn their corn.
The players who feel they have the most freedom could be the ones to come out on top.
West Ham
West Ham are perhaps the biggest of the four clubs and certainly have the most pressure on them. They were pre-season favourites for promotion, along with Leicester, because of the resources at their disposal, but I still think it's been a good season.
Sam Allardyce has managed the fans' expectations - they were expecting to bounce back up - but they've fallen short after too many home draws. Reading were the best team in the Championship and Southampton were the best footballing side, but West Ham still managed to push them both quite close.
Now they go into the play-offs in the knowledge that their away form has been brilliant all season and in the last few games they seem to be back on the goal trail at Upton Park as well. The negativity has disappeared since their big comeback against Birmingham and they should be very confident of reaching Wembley.
Their most important players are arguably Ricardo Vaz Te, Carlton Cole and Kevin Nolan who have provided the main goal threats and are in a rich vein of form.
Nolan has been a target for the boo boys at times, but has produced important goals in important games, especially away from home. He will be a key player for them, having tasted play-off success in the past alongside Big Sam at Bolton.
Without any natural wingers, the full-backs will be important too. Matt Taylor has always had a great delivery and may be called upon to supply the strikers. They have the players to play direct football and while I don't want them to go long I'd like to see them get the ball in the action areas more often.
Everybody associated with the club should be confident, but the Hammers have tasted success and heartache in previous play-offs. They lost 1-0 to Crystal Palace in the 2004 final, but returned the following season to beat Preston by the same scoreline.
Most people will make them the favourites to reach this year's final because of the way they finished the season - and it's hard to disagree with them. However, the margins are very narrow between the two sides.
Cardiff
Cardiff are on the longest unbeaten run of the four teams and are always there or thereabouts at the end of a Championship season.
They've been serial bridesmaids in the play-offs in the last couple of seasons. They were knocked out by Reading in the semi-finals last year and lost the final to Blackpool the year before that.
Blackpool are potential opponents in this year's final, but before they can think about revenge they need to focus on West Ham and making home advantage count in the first leg.
This season they have had to reinvent themselves after they lost their front four - Chris Burke, Craig Bellamy, Jay Bothroyd and Michael Chopra - and that's testimony to the great work Malky Mackay has done. I thought Dave Jones did a brilliant job for them too and his dismissal was unfair, but maybe it was time for him to take a break.
In the past we have seen them peter away at the end of the season, but they're on a 10-game unbeaten run and I feel it's a great achievement for them to get to the play-offs alongside three teams that were relegated from the Premier League last year
Can they get over the final hurdles this time? If they are to then I'm looking at creative players such as Don Cowie and Peter Whittingham, who has scored more than 50 goals and assisted 37 more in three seasons.
At less than £400,000 he has been quite a bargain and his set pieces have got them out of jail time and time again - as we saw when they were in a little bit of trouble against Crystal Palace last week.
Up front are two players from either end of the age spectrum in Kenny Miller and Joe Mason, who is full of heart and has been their main threat of late.
It's a very close game to call. People will look at West Ham's away form, but I don't think you can write them off, even if they lose at Cardiff in the first leg.
Cardiff can be expansive, they can defend really well and this game is very finely poised.
Birmingham
Speaking of finely poised, the other semi-final is even more so.
Birmingham have had an incredible season. They played their 60th game of the campaign last weekend and while you might have expected them to get worse, they have, in fact, got better.
They've scored 16 goals in the last five minutes of their games, which proves the benefit of having a manager like Chris Hughton. He might not have been 'box office' enough for Newcastle, but his experience and vision has been priceless at St Andrews.
He hasn't had much money to work with and there was a fire sale of important players after last year's relegation, but he has rotated his squad very well and found a route into the play-offs.
Chris Burke has been the stand-out performer with 13 goals and 16 assists. He's provided a regular supply line of crosses to Nikola Zigic, who has been very important to Birmingham after a disappointing start.
At the back, Curtis Davies has been a revelation. He was a disappointment in the top flight, but has performed like a Premier League stalwart this year.
I would also highlight Nathan Redmond, who has been given the opportunity to express himself and has the ability to turn defence into attack.
Can they extend their marathon season even further with a trip to Wembley? We'll soon find out.
Blackpool
Blackpool are my tip to win the play-offs because they offer something different to the other sides.
Like Birmingham and Cardiff, they lost a lot of players at the start of the season. Charlie Adam (who will be in the Sky Sports studio on Friday night), David Vaughan and DJ Campbell all moved on after relegation, but Ian Holloway has managed to galvanise his troops.
He hasn't compromised his attacking instincts either. Tom Ince has been a revelatory signing, Kevin Phillips has scored goals galore, Gary Taylor-Fletcher has a heart as big as a dustbin lid and Matt Phillips was brought back from his loan spell at Sheffield United at just the right time. He has been a real threat.
But the icing on the cake for them has been the return of Stephen Dobbie from Swansea. He was in the Blackpool ranks the last time they went up, he was a star performer for Swansea's promoted side last year and Holloway will be hoping he's a lucky talisman for them again.
But forget luck. He's a quality player who can operate in tight situations and use his intelligence behind the frontman. He's scored important goals already in their march into fifth place.
On wide open pitches, Blackpool seem to suffer less from nerves because they have so many good individuals who can hit you from all areas.
They have the most attacking options in their armoury and have an incredible belief to go forward. The manager trusts them and they have trust in each other - so that's why they're my favourites to go up.
But the Championship has embarrassed cleverer people than me as far as predictions are concerned. As ever, we value you the opinion of the supporters so let us know your predictions in the feedback form below and we'll publish them on the website...