Frank's not finished
Kenny Sansom told Sky Sports News HD that Frank Lampard should start for England against Wales.
Last Updated: 07/09/11 9:28am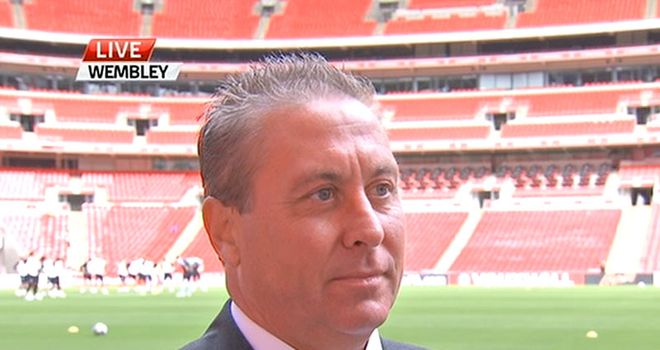 Frank Lampard's attacking instincts should earn him a starting place in Tuesday's Euro 2012 qualifier against Wales, according to Kenny Sansom.
England boss Fabio Capello omitted Lampard from his first XI for Friday's 3-0 victory over Bulgaria but insists that the Chelsea midfielder still has an international future.
Former Arsenal and England left-back Sansom concurs and believes that with Scott Parker and Gareth Barry one booking away from suspension, Lampard must start at Wembley.
"I would play Frank Lampard, purely because I think we are going to be on top of Wales - especially if you are going to play two wide players who are going to get crosses into the box," Sansom told Sky Sports News HD. "You are going to need someone like Frank to get on the end of it.
"He may not be a regular start for the Euro but he's a very important player. Jack Wilshere is out and Steven Gerrard is out and they are two players who like to make runs and get in the box.
"I'm not so sure that Parker and Barry want to get in the box as much; they are more defensive midfielders who get the ball and give it easy, whereas Frank has got that ability to make runs into the box. He can score with his head, he can score from the edge of the box with volleys and long-range shots so I think he's a big part of England.
"I would play Scott Parker, for sure, and obviously say to him 'if you don't have to make rash challenges, don't make them'. If it's important, and he has got to make a challenge, then Scott Parker has got to make a tackle."
Best
Manchester United striker Wayne Rooney carried his fine start to the Premier League season onto the international stage by scoring two goals in Sofia - the eighth time he has bagged a brace for England.
Skipper John Terry believes the forward will be a crucial part of England's plan for the next decade and Sansom believes that is down to the player's understanding of the game as much as his finishing.
"The secret of Wayne Rooney is that he can play with any player," he said. "It doesn't take him long to understand what the player wants. I think the players respect him so much that they are always giving him the ball.
"He didn't want to come off [against Bulgaria]. He was just fantastic all night. You don't want him coming well back in his own half to pick up the ball - Wayne Rooney is better in their half, causing all sorts of problems, picking it up just around the centre circle and knocking people like Theo Walcott and Ashley Young in between the centre-halves and the full-backs.
"His free-kicks and goal-scoring at the start of the season for club and country is fantastic. He is enjoying himself; he has got a massive, massive smile on his face. I haven't seen any of that aggression that we have seen from him when he gives the ball away, makes a silly challenge and gets himself booked for no reason.
"He still tackles and works hard for the team but we haven't seen that childishness and I think that is very, very important. The great thing for me is the understanding he's got with the other players.
"Whenever he's passing it he's 'lending it' to you because he wants it back. I think he's great for the team. He's got to be one of the best players in the world at the moment."
Concern
England need to take four points from their last two matches - against Wales and Montenegro - to qualify for Euro 2012 as group winners and while Sansom was not overwhelmed by their victory over Bulgaria, he still believes that Capello's side will be too strong for Wales.
"I think 3-0 flattered England a little bit," he said. "I didn't think that Bulgaria had much to offer, to be totally honest. My concern in the first 15 minutes was that Wayne Rooney was coming into his own half to get the ball. That, for me, is not his position.
"I understand Capello wants to pick his best side but I couldn't understand why he put Ashley Young behind Rooney; his position is on the left-hand side. He's been playing great there, he loves coming inside. When he does that, you've got Ashley Cole who loves attacking.
"The other concern I had was that Bulgaria, although they were very average, were able to get easy crosses into England's box. Wales froze at Cardiff but I think it will be a different case at Wembley. That result against Montenegro will give them a massive list and they will come here with a bit of confidence."