A winning formula
Dennis Tueart is unsure whether Robin van Persie would fit into Roberto Mancini's system.
Last Updated: 10/07/12 2:29pm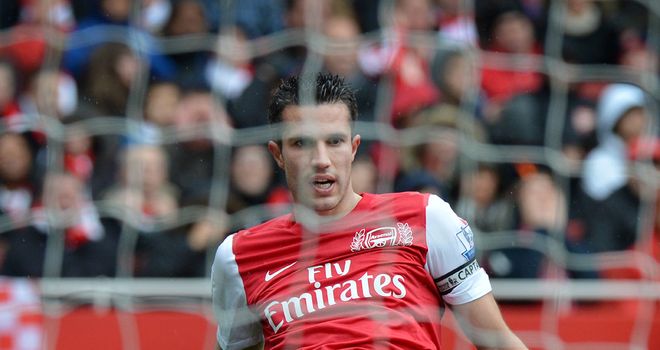 Dennis Tueart says Robin van Persie would be a great addition to Manchester City, but it would give Roberto Mancini a big selection poser.
Van Persie has been heavily linked with a move to the Premier League champions after signalling his intention to see out the remaining year of his contract at Arsenal.
However, former City great Tueart told Sky Sports News that the Dutchman may struggle to form a partnership with players such as Sergio Aguero and Carlos Tevez, who are more suited to a lone striker role.
"If you bring van Persie in, you've already got Aguero, Tevez, Edin Dzeko and Mario Balotelli. In my view they're all single strikers, they're not really a pair," he explained.
"To try and get van Persie to play down the left or on his own is a challenge, and that's the problem for Mancini. He's going to have an abundance of quality players, no matter who he brings in over the course of the summer. His challenge will be to blend them into a team."
Defence
While City have been linked with a number of star attacking players, Tueart hopes Mancini brings in a defender.
"I've always maintained that I'd like to see a left-sided defender," said Tueart, who made over 200 appearances for the club. "Joleon (Lescott) has had a fantastic season but they need a back-up.
"I'd like to see some pace down that left-hand side. Adam Johnson plays on the right, as does James Milner. We've only ever had an attacking full-back down that wing, such as Aleksandar Kolarov or Gael Clichy. I would like to see someone who could provide a bit of balance."
Tueart was delighted by the news that Mancini has committed his future to the club by penning a new five-year deal, and he believes the current stability at the club gives them an edge over their rivals.
"It's fantastic news ahead of the start of the new season," he said. "One of the first things I stressed when I was a director was the need for stability and unity, as we'd not had it for around 20 years. Finally it's starting to come through, which is great news."
He added: "You look around at the other clubs that will competing against Manchester City next season, they're all in transit - Liverpool, Arsenal, Chelsea and even Manchester United to a degree. We've got that stability, and they haven't."
Pressure
Having captured their first league title since 1968, Tueart says Mancini and the players are now under pressure to challenge for silverware every season.
"We broke the deadlock with the FA Cup and now we've the Premier League trophy, but progress means going for more silverware next season," he said. "From now on we've got to be in the frame for trophies in every single season.
"Europe is where the next challenge comes from. Competing for the Champions League is where we need to be, and with the quality of players we're bringing in, we should be."