Speed - Bale is phenomenal
Wales coach Gary Speed has described Gareth Bale's performance against Bulgaria on Tuesday evening as 'phenomenal'.
Last Updated: 12/10/11 7:52am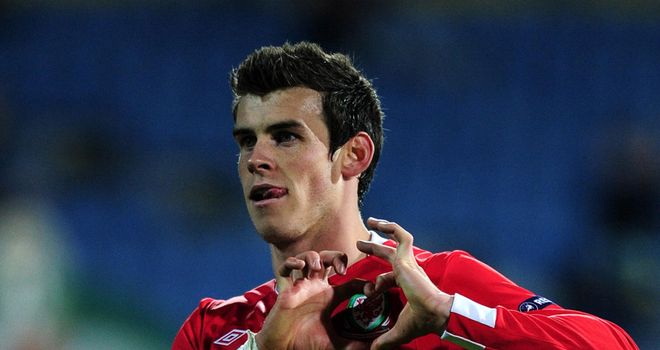 Wales coach Gary Speed has described Gareth Bale's match-winning performance against Bulgaria on Tuesday evening as "phenomenal".
Bale scored the only goal of their Euro 2012 qualifying Group G encounter in Sofia in the first half, as the Dragons ended their campaign with a 1-0 victory and finished third in the group.
The Tottenham Hotspur winger also hit the Bulgarian crossbar in the second period with a stunning volley following some brilliant link-up play with Wales captain Aaron Ramsey, making Speed proud of his compatriot.
"Gareth was phenomenal again," enthused Speed after the match. "The pitch out there did not suit his game.
Match winner
"I have played on pitches like that and it's heavy and dead, the grass was long and we said to the players at training last night that if you run with the ball on that you are going to get caught, so to put in a performance like that is phenomenal.
"He is a match winner, but you have to give your match winners a platform to win games for you, and everyone else gave him a platform and he puts the hard work in too.
"That's how we will achieve things and he works harder than anyone and that's the situation we need if we are to keep improving."
The victory at the Vasil Levski Stadium gave Wales back-to-back wins in competitive fixtures for the first time since 2005 after their 2-0 triumph over Switzerland in Swansea on Friday.
The pitch was a disappointment, while the home fans boycotted the game because of Bulgaria's current winless run of seven games, and Speed was happy with the attitude of his players.
Unexpected win
"I am really delighted," stated the 42-year-old. "I was apprehensive before the game, to be honest.
"We have come so far so soon that before the game I was thinking this might be one game too far because of the circumstances the players found themselves in.
"Many of them have not experienced it before. To come to Bulgaria, a place that is difficult to come to and try to grind out a result.
"I would have settled for a draw before the game. I wanted a positive result of any kind because we need this experience to make us better in the future. So to get a win; I did not expect it but it was brilliant.
"All the excuses were there for us, the lack of crowd, the pitch was poor, the ball. Everything was there for us to look for excuses but the players did not use any excuses and got the job done really well, and I am very, very proud."
Bulgaria caretaker coach Mihail Madanski was disappointed to see his side go down at home and lamented: "Of course I am very disappointed to lose but I did not expect to see us make big improvements when I have only had four or five training sessions with the players.
"I was disappointed because at times we showed a lot of fight, but there are a lot of 19 and 20-year-olds coming through who are going to make us better in the future."