Spain to be patient with Villa
Vicente del Bosque will leave it late before deciding whether to take David Villa to Euro 2012, but remained coy on a recall for Fernando Torres.
Last Updated: 04/05/12 1:24pm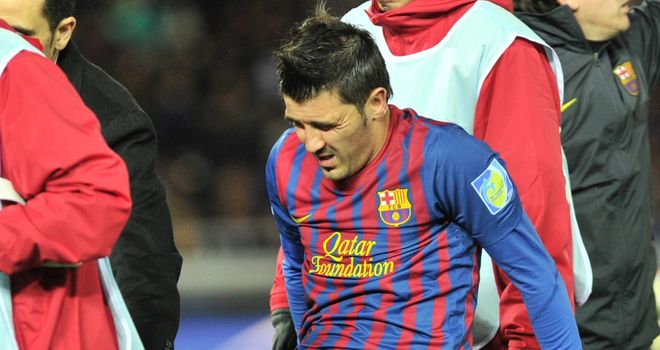 Spain coach Vicente del Bosque has revealed he will leave it until the last minute before deciding whether to take David Villa to Euro 2012, but refused to be drawn on a possible recall for Fernando Torres.
Barcelona striker Villa - who has 51 goals in 82 internationals for his country -fractured his left tibia during the Club World Cup semi-final win over Al Sadd in Japan last December.
The 30-year-old's chances of playing again this campaign were initially rated as 'slim' and although he is still unlikely to play in La Liga again this season, he may be able to prove his fitness enough to earn a place in Spain's squad for next month's tournament in Poland and Ukraine.
The reigning World and European champions will publish a provisional squad list on 15th May, including those going to Euro 2012 and the London Olympics.
A revised list may then include Spain players from Chelsea following the UEFA Champions League final on 19th May and stars from Barcelona or Athletic Bilbao, who clash in the Copa del Rey final on 25th May.
A definitive list will then be drawn up on 27th May, though Del Bosque revealed he may wait until 29th May - the deadline to submit squad lists to UEFA - in order to give Villa as much time as possible.
"I last spoke to his current coach [Pep Guardiola] yesterday. He told me how he is," said the 61-year-old.
Goalscorer
"We have an obligation and also a conviction that we should wait until the last moment in David's case because he has been our most reputable goalscorer, the surest player and we should wait, of course."
Villa's international strike partner Torres was dropped for Spain's friendly with Venezuela in February following a torrid run of form for his club Chelsea.
However, the 28-year-old appears to have finally rediscovered his scoring touch after netting a crucial goal in the Champions League semi-final second leg against Barcelona before hitting a hat-trick in the Premier League against QPR the following weekend.
Del Bosque though remained non-committal with regards to the former Liverpool striker, insisting he was not going to make any knee-jerk squad selections.
"We look at every day's play but we don't make a definitive decision based on one day," he added.
"We have to study the history of the players.
"At the moment obviously I am not going to say whether Tom, Dick or Harry is coming to the team but we don't make a decision based on one single game."