Low blow for Crouch
Gerry Francis fears Roy Hodgson has scored an own goal by not picking Peter Crouch for Euro 2012.
Last Updated: 16/05/12 7:24pm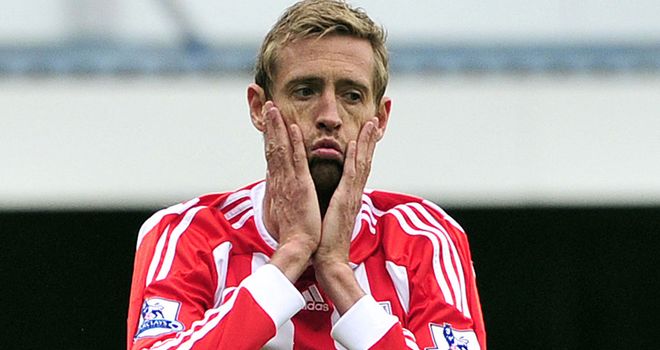 Gerry Francis fears England boss Roy Hodgson has scored an own goal by not including Stoke City striker Peter Crouch in his 23-man Euro 2012 squad.
Francis - who works part-time as a coach for the Potters - told Sky Sports News that Crouch deserved the nod ahead of Liverpool's Andy Carroll based on the quality of their respective performances across the season.
Carroll is joined on the plane by fellow strikers Danny Welbeck and Jermain Defoe, as well as Manchester United's Wayne Rooney, who is banned for first two matches of the tournament. See Hodgson's squad.
Meanwhile Crouch, who has scored 22 goals in his 42 appearances, isn't even on Hodgson's stand-by list. Chelsea's Daniel Sturridge is above him in the pecking order.
"I'm very disappointed," said Francis, who won 12 England caps. "Having worked with Peter all this year, he's got 14 goals - some outstanding goals as well. He's a proven goal-scorer, certainly at international level. His record for England is phenomenal.
"I'm not saying he would necessarily always start in the team but certainly for me I'd have him there any day as a squad player because he is a handful and he's got an outstanding record at scoring goals.
"To be fair to Andy - I was with the U19s when Andy was there with England - he's had a good end to the season and looked much more like the player he was at Newcastle towards the end of this season but in terms of having a great season, scoring 14 goals, I'm surprised Peter's not there."
Options
Rooney will miss the opening games of the tournament, against France and Sweden, after being dismissed for kicking Miodrag Dzudovic in October's 2-2 draw with Montenegro.
However Francis hopes that the inclusion of uncapped midfielder Alex Oxlade-Chamberlain, of Arsenal, will help ease the pressure on England's other strikers in Rooney's absence.
"Hodgson has got a few options," reflected Francis. "He could play Rooney withdrawn and play either Defoe, Welbeck or Carroll up there or he could play Wayne Rooney up on his own and play Steven Gerrard in behind - or even Frank Lampard, if he wanted to.
"It's a one-off, really. It's Roy's first team. We are not too sure who he is going to go for, who he really likes - it's a lot of guess work from that point of view.
"But when you look at it, it is a bit worrying up front for me in terms of Wayne Rooney being missing.
"Oxlade-Chamberlain has got natural ability to go past people, which is really important; he's a goal-scorer as well so I'm really pleased that he is in the squad and I'm sure that as he's picked him, he will play him."