Euro star
We analyse David Silva and how he might fare at Euro 2012 after making such an impact at Manchester City
Last Updated: 10/06/12 9:40pm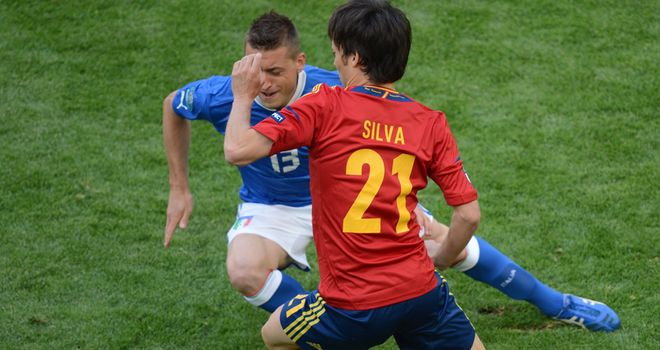 David Silva has lit up the Premier League with some sublime performances since his move to Manchester City two years ago, but whether he can show similar form for Spain will be one of the intriguing subplots of Euro 2012.
He featured heavily when Spain won these championships four years ago, but barely figured in the World Cup in 2010. In fact his only start was the opening game against Switzerland - which Spain lost. After that, there was one brief substitute appearance and that was it. Enough for a World Cup winners' medal, but would he have a nagging doubt over his contribution?
There did not appear to be any doubts once he pulled on a sky blue shirt, and Silva looked at home in the Premier League almost straight away. A lovely curled goal away to Blackpool that October made people sit up and take notice, and the general feeling was one of how good must Spain be if they could afford to leave this guy out?
But nothing is set in stone, and goals are one area where Silva has been questioned. He bagged four in the league in his first season, six in his second - but just one came after New Year. This coincided with a general dip in form, but Roberto Mancini stuck with Silva and he played a big part in City's storming, title-winning run-in that ended so unforgettably against QPR.
Both Spain and City are stuffed full of players who score more than Silva, and his talents are best suited to allowing them to do that, with goals an added bonus. Going in to Euro 2012, Silva looked set to play a big role in Spain's tilt at an historic third straight tournament win.
Vincente Del Bosque elected to take on Italy without any recognised strikers, meaning Silva and his attacking cohorts had to take responsibility themselves with no focal point to feed.
An early chance saw Silva drift into the area, but he dithered and Italy were able to crowd him out in a moment that summed up much of the rest of the match for Spain.
The 26-year-old decided to get a touch more selfish when further chances came his way, but one shot was fired well over the bar and another lacked power and went straight at Buffon.
However Silva made amends in the second half with a typically deft touch that allowed Cesc Fabregas to equalise. His afternoon ended shortly afterwards, as it often has for City when things have not gone their way, and it will be interesting to see whether he is discarded for the next game as he was in South Africa. He's a better player than he was two years ago, but will Vicente Del Bosque look elsewhere?