Sky Sports Scout - Kolbeinn Sigthorsson
Sky Sports Scout is where we scour the globe looking for the best talent, next up is Kolbeinn Sigthorsson.
By Sky Sports Scout
Last Updated: 21/05/14 10:40am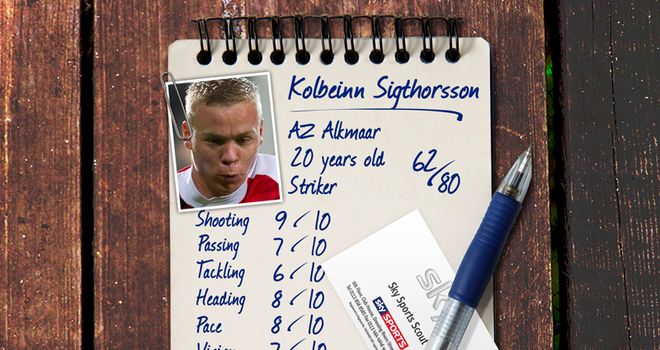 Sky Sports Scout is our exciting feature where we scour the globe looking out for the best talent and bring you a report on what we find.
Our Scout will report back and you can comment on what you think of our appraisal.
Also, in association with Football Manager, we give all readers the chance to win a copy of the latest game by nominating a player.
You can only nominate a player by emailing here, including the word 'Scout' in your subject line and please check to make sure we haven't already covered the player, you can see over 100 previous reports to the right of the page.
Should your player get reviewed by our scout, and you were first to send in his name, then you will win a copy of the all new Football Manager 2011.
You can also now interact with the scout via his all new Twitter feed! You can get in touch with him and interact here or just search for @skysportsscout!
Latest under our scout's gaze is AZ Alkmaar's Kolbeinn Sigthorsson - recommended by Sky Sports reader Glenn Collins.
The scout reports...
This week our scout report comes from Holland, as the Scout turns his attention to Icelandic striking prospect Kolbeinn Sigthorsson.
Sigthorsson recently hit the headlines with five goals in a single league match against VVV Venlo for AZ Alkmaar - but is the Icelander the real deal?
Sigthorsson is at 20 one of the most highly-rated front-men in Europe.
He began his career in his homeland with Vilkingur, before moving onto HK's youth set-up in 2003 at the age of 13.
Even before he joined HK, Sigthorsson already had clubs chasing him, indeed Arsenal have never left his trail from that moment in time.
He stayed in Iceland until 2007. Having already spent time training with Arsenal, and with the likes of Ajax and Real Madrid both showing an interest, he was expected to join one of Europe's elite as his brother Andri had done when he was 16, after joining Bayern Munich, only for injury to cut his career down before it got started.
Maybe using his brother's experiences, Sigthorsson opted for AZ - knowing if he continued his progression as expected he would get his first-team chance much sooner.
The decision proved an astute one as, having shown up well in AZ's youth set-up, he was handed his first-team debut, slightly later than some envisaged, in early 2010. By the end of the year he had become first choice and was also in Iceland's senior squad.
Then came his five goals against VVV earlier this year, which reaffirmed his status as one of Europe's most promising front-men.
Sigthorsson in general can be described as an excellent target man, good in the air, quick and with an excellent touch - but he is no mere battering ram.
Sigthorsson above all else is a natural finisher, he will score goals and in and around the six-yard box can poach with the best of them.
The scout says...
Starting to really come of age and showing that his decision to join AZ was a very astute one. Clubs are again beginning to watch him closely but he is unlikely to be rushed into leaving Alkmaar.
Could be described as an archetypal English player and the odds are that the Premier League will be his next port of call, and Arsene Wenger is more than likely to be well aware of his continued progression.
The Scout rating...
Shooting: 9 out of 10
Passing: 7 out of 10
Tackling: 6 out of 10
Heading: 8 out of 10
Pace: 8 out of 10
Vision: 7 out of 10
Current ability: 7 out of 10
Potential ability: 10 out of 10
OVERALL SCOUT RATING: 62/80
Current value: £5million
Potential value: £30million
Your opinion...
You have read our opinion of Kolbeinn Sigthorsson - now we want your views. Have you seen Sigthorsson in action? Do you agree with our assessment? Do you think he will make it?
Get in touch, either using the form below, email or the scout's all new Twitter feed - @skysportsscout
And if you have spotted anyone you think we should feature then please get in touch using the same form. We will look to send out the Scout to follow up your leads.