Sky Sports Scout - Ryan Tunnicliffe
Sky Sports Scout is where we scour the globe looking for the best talent, next up is Ryan Tunnicliffe.
By Sky Sports Scout
Last Updated: 21/05/14 10:41am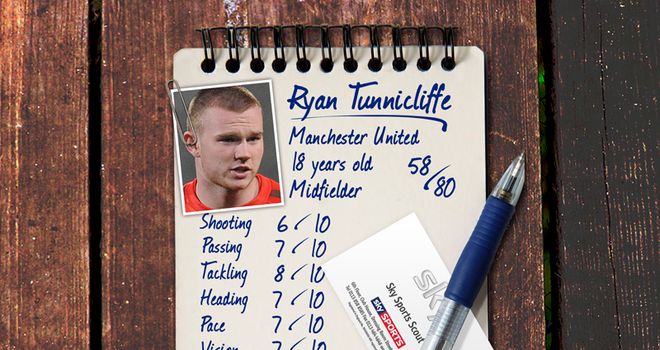 Sky Sports Scout is our exciting feature where we scour the globe looking out for the best talent and bring you a report on what we find.
Our Scout will report back and you can comment on what you think of our appraisal.
Also, in association with Football Manager, we give all readers the chance to win a copy of the latest game by nominating a player.
You can only nominate a player by emailing here, including the word 'Scout' in your subject line and please check to make sure we haven't already covered the player, you can see over 100 previous reports to the right of the page.
Should your player get reviewed by our scout, and you were first to send in his name, then you will win a copy of the all new Football Manager 2011.
You can also now interact with the scout via his all new Twitter feed! You can get in touch with him and interact here or just search for @skysportsscout!
Latest under our scout's gaze is Man United'sRyan Tunnicliffe - recommended by Sky Sports reader Sam Platt.
The scout reports...
Ryan Tunnicliffe is one of the names fast emerging as one of Sir Alex Ferguson's real hopes for the future.
The Manchester-born starlet was first spotted by United scouts at the age of nine playing locally.
During his inaugural years with United he was also spotted by England, and he made his debut for the Under-16s at just 14.
He has made excellent progress through the ranks at Carrington and was tied down to a professional deal when he turned 17.
Now little over 12 months on from signing his first deal, he is a regular in the first-team squad and was recently awarded a squad number.
But just how good a prospect is Tunnicliffe? Well he looks like he has everything in his locker to push on and make a name for himself at Old Trafford.
Like with any hard-working, tenacious midfielder that puts on the red shirt, he already be described as the next Robson, Ince or Keane - and although just 18, Tunnicliffe looks very much in that mould.
Strong in the tackle may be the first thing you notice, but Tunnicliffe is technically very, very good - which is why he has also been used in a number of different roles in United's youth system.
His passing is very good, and although he likes to keep it simple he can pick a long ball when needed as he also has a good footballing brain which means he can be dangerous going forward.
Tunnicliffe has also shown his temperament is excellent after battling back from serious injury sustained last season.
Ferguson only last month singled Tunnicliffe out as having a chance of making it, and not many could argue with him.
The scout says...
With Paul Scholes nearing retirement, United would love another home-grown midfield general to emerge, and Tunnicliffe could be that man.
The next 12-months are likely to see him get his chance to cement his place in the first-team squad, and from there it will be with great interest to see whether he can make the big breakthrough.
The Scout rating...
Shooting: 6 out of 10
Passing: 7 out of 10
Tackling: 8 out of 10
Heading: 7 out of 10
Pace: 7 out of 10
Vision: 6 out of 10
Current ability: 6 out of 10
Potential ability: 10 out of 10
OVERALL SCOUT RATING: 58/80
Current value: £1.5million
Potential value: £18million
Your opinion...
You have read our opinion of Ryan Tunnicliffe - now we want your views. Have you seen Tunnicliffe in action? Do you agree with our assessment? Do you think he will make it?
Get in touch, either using the form below, email or the scout's all new Twitter feed - @skysportsscout
And if you have spotted anyone you think we should feature then please get in touch using the same form. We will look to send out the Scout to follow up your leads.