Rangers timeline
Sky Sports looks back at the events since SPL giants Rangers were placed in administration.
Last Updated: 11/02/13 3:17pm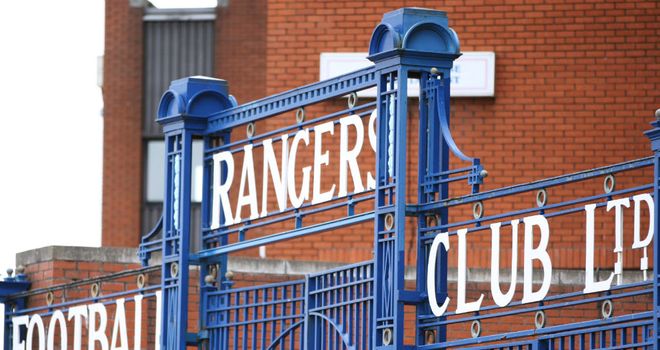 Following the announcement that the Rangers players have agreed to a pay cut which has saved jobs among the non-playing staff, Sky Sports looks back at the club's plight since being placed in administration.
February 13 - Rangers lodge their intention to go into administration at the Court of Session in Edinburgh. Owner Craig Whyte says the bill for the major tax case over the use of Employee Benefit Trusts under Sir David Murray could amount to £75million.
February 14 - Rangers appoint administrators Duff and Phelps after a court battle with Her Majesty's Revenue and Customs. They are immediately docked 10 points by the Scottish Premier League, leaving them 14 behind Celtic.
Murray expresses surprise at the timing of the club's move into administration.
Duff and Phelps reveal that HMRC lodged its petition to take Rangers into administration over the non-payment of about £9million PAYE and VAT since Whyte's 2011 takeover.
February 15 - Administrators reassure fans that Rangers will continue as a football club.
February 16 - Administrators reveal "several expressions of interest from parties not connected to the club" and express concerns over Whyte's running of the club.
February 17 - Whyte expresses confidence that investigations will prove "every penny has been accounted for".
The Scottish Football Association launches an independent inquiry into the activities of Rangers, specifically whether Whyte is "fit and proper" to hold a position in the game.
Rangers are denied permission to re-sign striker Daniel Cousin, whose impending arrival they had announced before going into administration.
February 18 - Manager Ally McCoist welcomes the SFA inquiry after his side's 1-0 defeat against Kilmarnock at Ibrox.
February 21 - It is confirmed that the club's £18million bank debt was paid off with future season ticket money from Ticketus, a fact Whyte had denied three weeks earlier.
February 22 - Rangers director Dave King meets administrators.
February 23 - Rangers director of football Gordon Smith and chief operating officer Ali Russell agree to leave the club. Strathclyde Police receive a report from administrators over the club's financial dealings.
February 26 - McCoist speaks of his pride after his players put smiles back on the faces of those involved with the club with a 4-1 win at Inverness.
February 27 - Rangers are fined £50,000 by the PLUS Stock Exchange for failing to disclose owner Whyte was previously disqualified as a director.
March 1 - Ticketus call for a "rapid and successful conclusion" to the administration process and say they are willing to hold talks with any potential new owners.
March 2 - The SFA confirms it will investigate claims made by former Rangers director Hugh Adam that payments made to players were not disclosed to the governing body.
Duff and Phelps postpone a final decision on cuts after refusing an offer from players to defer wages.
March 3 - Administrators say redundancies are "likely" as Rangers lose 2-1 at home to Hearts.
March 5 - The Scottish Premier League has confirmed that its board has instigated an investigation into the alleged non-disclosure of payments made to players by Rangers.
Rangers administrators consider a proposal from players overnight after failing to reach consensus over wage cuts.
March 6 - Joint administrator David Whitehouse says they have been unable to reach an agreement on a wage-cut plan and that talks will continue on Wednesday, although Mervan Celik and Gregg Wylde both offer to leave the club.
March 7 - Rangers director Dave King claims liquidation is inevitable. Duff & Phelps announce they are accelerating the sale of the club after failing to agree cost-cutting measures with the playing staff, while joint administrator Paul Clark says there is "no realistic prospect" of the club being able to meet criteria needed to play in European competition next season by the March 31 deadline.
March 8 - The SFA declares Whyte is unfit to hold a position in football and confirm that the club is facing a charge of bringing the game into disrepute.
March 9 - Rangers administrators announce a package of wage cuts with players that have "directly prevented substantial job losses among non-playing staff both at Ibrox and Murray Park". Former Rangers director Paul Murray has confirms his Blue Knights consortium is finalising an offer to buy the Ibrox club with the surprise backing of Ticketus.