Football Expert & Columnist
Andy Walker says Rangers' Third Division title won't paper over the huge cracks
Winning the Third Division title can't lift the ongoing doom and gloom around Rangers, says Andy Walker.
Last Updated: 29/04/13 1:44pm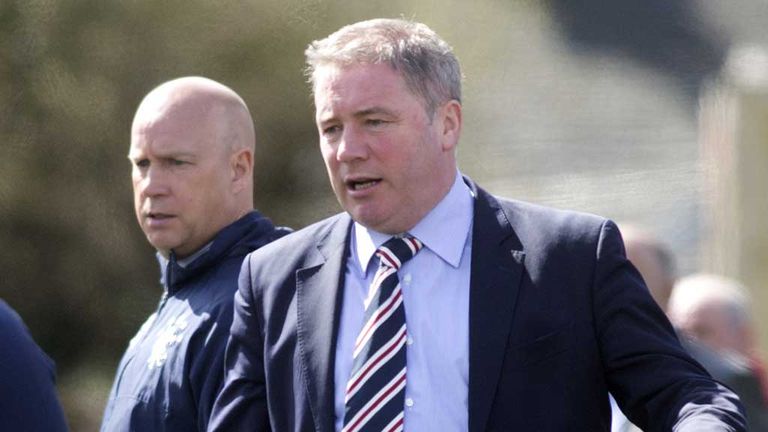 Normally, at the end of a title-winning season, supporters are able to reflect on a campaign of great results, consistently impressive performances from their team and to naturally get excited at the challenges that lie ahead.
But for everyone connected with Rangers, a cloud of uncertainty continues to surround their club on and off the park.
At Ibrox this Saturday - live on Sky Sports - Ally McCoist's men will be presented with the Irn Bru Scottish Third Division trophy after they play host to Berwick Rangers.
Despite winning the league at a canter, it's fair to say the majority of fans have been unhappy with the level of performance on a consistent basis and off-the-park issues remain the biggest concern.
Investigations
An independent investigation is under way primarily to establish if disgraced former owner Craig Whyte is still involved with the club. Charles Green has also recently informed the Rangers board that he was stepping down from his role as chief executive.
After being accused of using racist and offensive language, the suspicion is that Whyte and Green were working together to secure Rangers' future without informing either the supporters or the SFA. These are desperate times for Rangers.
Ally McCoist has had to deal with his chief scout Neil Murray leaving the club; experienced striker Francisco Sandaza effectively being sacked and physio Pip Yeates also being asked to leave.
Players who were brought in to help Rangers seriously compete in domestic Cup competitions have clearly under-performed.
Ian Black, Dean Shiels, Sandaza and David Templeton have been unable to show that they are a class apart and far from watching an SPL side play against Third Division part-timers, some fans have described Rangers being outplayed far too often over the course of the season.
Mistakes
Most supporters are in shock at the lack of leadership at their club and wonder how they can see a way of returning to former glories.
Parading the trophy at the end of the Berwick Rangers game is the first step on a long road to achieving their ultimate aim of not only getting back into Scotland's top flight but also trying to compete with Celtic.
While Neil Lennon and his men have risen to the challenge of rubbing shoulders with Barcelona, Benfica, Spartak Moscow and Juventus this season in Europe's premier club competition, Rangers have been on the road to Peterhead, Elgin, Annan and Montrose.
Financially, they are worlds apart despite Rangers claiming to be debt free and cash rich after liquidation and a flotation on the AIM market.
The simple truth is that no one can say with any degree of certainty who owns what inside Rangers and more importantly who controls spending or governance of any money coming into the club.
Until those issues are resolved once and for all, Rangers will always be hamstrung in their effort to return to competing with Celtic for the SPL title.