Football Expert & Columnist
Andy Walker: Celtic's lack of signings might halt their Champions League progress
Andy Walker fears Celtic's lack of star signings might mean they miss out on the Champions League.
Last Updated: 21/08/13 1:39pm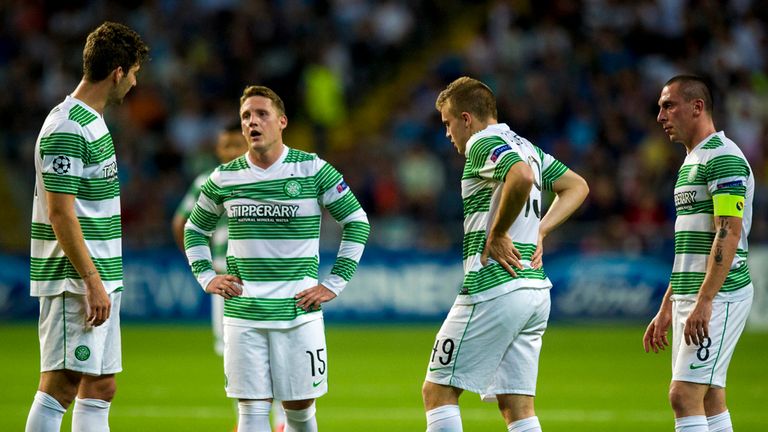 The Scottish Champions are more than capable of scoring three or more goals against a side that I would describe as no more than decent at this level.
Shakhter's style of play is direct, they are physically strong and powerful in the air and their approach to the second leg in Glasgow will not change. They will defend in numbers.
But it's a position Celtic should not be in.
After coining in £20million from last season's wonderful Champions League campaign, Victor Wanyama was sold to Southampton for £12million. That was a superb piece of business.
Taking a chance on the young Kenyan internationalist for a fee of around £1million just two seasons ago has proved to be a major triumph for Celtic's recruitment policy.
Then Gary Hooper, a man who scored regularly in both domestic and European competition and who most recently netted twice in Celtic's Scottish Cup final success against Hibs, opted for the lure of the Barclays Premier League when he signed on at Norwich City for around £5million.
Hefty
Again, a deal that makes sound business sense. Hooper could have stayed for the rest of his contract and left for nothing so receiving a hefty fee now is understandable.
On top of that, Kelvin Wilson returned to Nottingham Forest for a fee believed to be in the region of £2million.
Wilson highlighted the important family issues that meant he would be much more comfortable living closer to home so, once again, Celtic were prepared to do business.
Banking the best part of £40million in such a short space of time is the stuff that every other Scottish club can only dream about.
But where are the quality replacements to ensure another season of Champions League football was likely in Glasgow?
This two-legged qualifier was a date ring-fenced in the calendar as the most important tie of the year and Celtic are undoubtedly a weaker side without 3 of the players who served them so well in Europe last season.
Reckless
At a time when serious competition for the league title is non-existent, the Celtic supporters have chosen to pay good money up front to renew their season tickets.
European football at the highest level gives them the excitement and drama they long for.
And while I certainly understand why the Scottish Champions choose to invest in potential and young players as their model for recruiting players, it will be a real slap in the face for the Celtic fans if a lack of quality signings means they'll miss out on competing with Europe's elite.
No-one is advocating reckless spending by the Celtic board. But why not pay a premium for one or two players when there is so much at stake?
The reality is that Neil Lennon's men are chasing a two-goal deficit under the lights in Glasgow next Wednesday that will define Celtic's season.
It will be a slap in the face for the Celtic fans if their team haven't been in the best possible position to return to this level of competition.