Football Expert & Columnist
Andy Walker: Celtic can beaten any of Barcelona, AC Milan and Ajax
Barcelona, AC Milan and Ajax will all benefit from facing Celtic - but can be beaten, says Andy Walker.
Last Updated: 30/08/13 4:43pm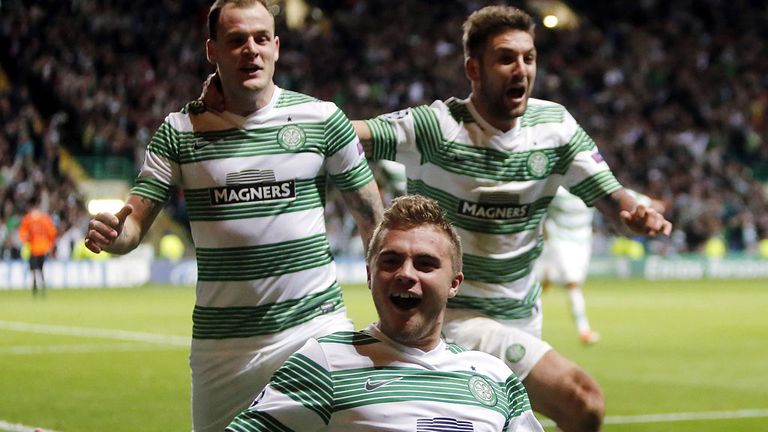 The draw in Monaco means that supreme talents such as Lionel Messi, Neymar, Mario Balotelli, El Sharawi and Bojan among others will all be strutting their stuff in the coming months in Glasgow.
Celtic supporters will welcome the thrilling prospect of taking on Barcelona, AC Milan and Ajax in a Champions League group where everyone is a former winner of the trophy.
It's a perfect draw for the fans with easy access to stadiums that will welcome the type of travelling support Celtic are renowned for.
There's no doubt in my mind that the Champions League is enhanced with Celtic in it.
When you consider the very modest income that the Scottish champions generate, this is a shot in the arm again for Scottish football to be represented at the highest level and it's a group to enjoy and be excited about.
I for one would never discount Celtic beating anyone in front of their own supporters. They did it last season against Barcelona and the Spanish champions are not alone in leaving Glasgow empty-handed.
In recent years Manchester Utd, Juventus, Porto & AC Milan have all come up short in Glasgow and there's no reason to think it'll be any easier this time round.
Quality
I imagine that Neil Lennon will get the help he's craving for now that the riches of the group stages are guaranteed.
He was angry in the immediate aftermath of the game when he highlighted how little help he had received over the last seven weeks.
Losing important players with Champions League experience in the shape of Victor Wanyama, Gary Hooper and Kelvin Wilson was hardly the ideal preparation and put his men right up against it.
It was a gamble not to replace these important players in time for the play off against Shakhter Karagandy but thankfully they made it and the six ties against quality opposition is a fitting reward.
With the signing deadline approaching on Saturday night, I expect new players to arrive in the next 24 hours. Signing for Celtic now is clearly more attractive with guaranteed Champions League action to look forward to.
Resources
Neil Lennon has also underlined how crucial it is for his players to continue their development with more experience against some of Europe's best.
It's the same for the manager.
My guess is that with another couple of notable victories in the toughest environment of all, Neil Lennon will begin to attract the attention of more cash-rich clubs in England.
There's a shelf life for any Celtic manager and I think another two seasons will have been enough for Neil.
Making his mark against some of the best managers and coaches in Europe will naturally draw attention to what Lennon can achieve with fairly small resources.
The truth is finishing third in this group would be a marvellous achievement. Celtic players get tremendous energy from their supporters and of course they have a chance of getting between the obvious favourites of Barcelona and AC Milan but emulating what was achieved last season will be a tall order.
But never write Celtic off in Glasgow!