Football Expert & Columnist
Rangers must curb spending to avoid further heartache, says Andy Walker
Rangers are improving on the field, says Andy Walker, but are being dragged down by issues off it.
Last Updated: 09/10/13 3:13pm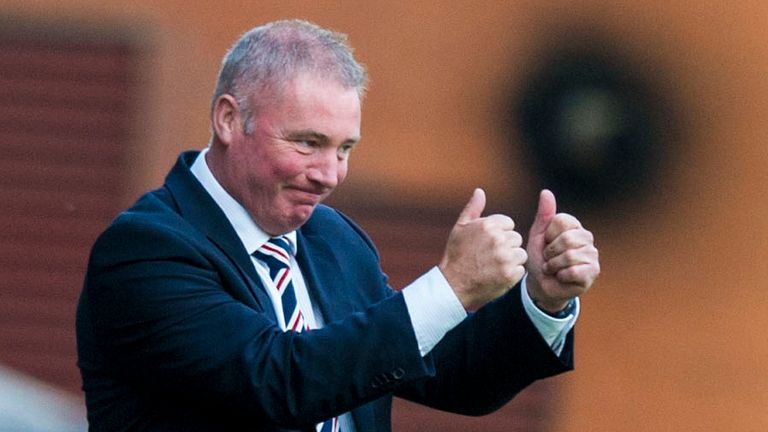 It's true to say that last season fans of the Ibrox club were often dismayed at the poor quality of play on the park, while their lack of progress in domestic cup competitions was another huge disappointment.
So it would be churlish not to acknowledge that Rangers have improved this season, are scoring goals freely and are clearly a much better side.
Given the resources they have, and that the opposition on a weekly basis are part-time, it's the least the fans can expect to see,
But the fact remains that it's impossible to focus on manager Ally McCoist's playing side when there's so much drama off the park.
Over the last few games both home and away, Rangers fans have gone out of their way to express their anger at various shareholders and board members, and the simple truth is that the spotlight will remain on off-field matters until the outcome of the AGM later this month is known.
Drastic
My guess is it will force a very uncomfortable reality on a club that continues to be spectacularly mismanaged.
When the wage-to-turnover ratio is 93 per cent, drastic action has to be taken.
McCoist should not have been surprised when it was disclosed by those inside Ibrox recently that his salary was a mouth-watering £825,000 per year, in effect, to win a league against part-time opposition.
I can only assume that the objective in releasing that information was to deflect attention from the real problem at Rangers.
The reality is that the club are losing something in the region of £1million per month and if that continues, a second administration is on the cards.
Who is going to bring this madness to an end? Who has the power to control spending, inevitably making some harsh decisions in the process?
Current chief executive Craig Mather has been subjected to some fierce criticism from supporters but maintains that he knows how to lead the club out of this mess.
Dubious
Rangers' fans now know after figures were released last week that their club posted losses of £14.4million.
When former Chief Executive Charles Green launched a share issue late last year, it was successful to the extent that around £22million was raised but much of that has now gone.
In less than a year, Green walked away with close to £1million while shareholders awarded themselves dubious bonus payments for winning the Third Division title.
No wonder Rangers fans label them as "spivs".
Former manager Walter Smith also highlighted earlier this week that things will inevitably become more painful before the club gets back on the right track.
As things stand, there's a severe lack of trust from the supporters towards anyone in the boardroom and until that trust can be established, Rangers will continue to make headlines for all the wrong reasons.
The AGM on Thursday October 24 has to herald a new beginning.