Football Expert & Columnist
Scottish game suffering because of poor refereeing, says Andy Walker
Andy Walker criticises the standard of refereeing in Scotland after recent red card blunders.
Last Updated: 12/11/13 1:01pm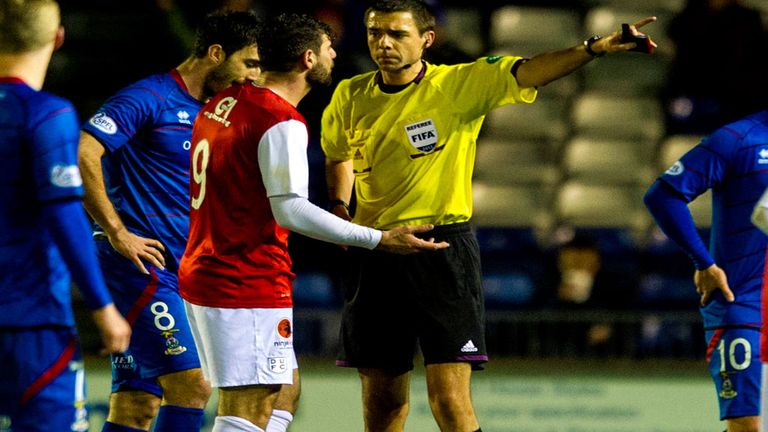 At the time there was a general feeling of unhappiness at the level of criticism coming their way, with some questioning their honesty and integrity.
The referees also felt the SFA, Scottish football's governing body, should do more to support them. And in a bid to placate all match officials, a statement from the SFA promised: "Tougher and more immediate sanctions on players and club officials who abuse referees and linesmen - and especially those who challenge their integrity and honesty".
From what I have seen over the last couple of years, we've certainly witnessed tougher sanctions on players with no real justification for it and in my view, the standard of refereeing has declined to the extent that there is a shocking approach to red card decisions.
Last season, Victor Wanyama was sent off against St Mirren and his red card was immediately rescinded.
I covered a Dundee derby for Sky Sports and couldn't believe it when Johnny Russell and Stephen O'Donnell were both sent off for getting involved in a strong tackle. Days later both players won their appeal.
Rangers' Lee Wallace was given a red card in a game against Annan Athletic and it too was rescinded.
Earlier this season, Jamie Hamill of Hearts was red carded for blocking a shot with his head. Unsurprisingly, his red card was immediately overturned.
But Dundee United have the biggest gripe of all.
I was at the Tulloch Caledonian Stadium in October to see Inverness Caley Thistle entertain Jackie McNamara's men for a place in the semi-final of the League Cup. I didn't see one bad tackle in the 120 minutes of play but witnessed 12 yellow cards and three reds given out by a highly excitable Kevin Clancy.
Worst of all, United were also forced to play for 75 minutes with ten men after Turkish striker Nadir Ciftci was sent off when players and coaching staff exchanged angry words on the field of play.
In the aftermath of that incident, the 21-year-old was also hit with two further charges; one for allegedly grabbing an Inverness player by the face and another for allegedly manhandling an assistant referee.
Not only did Ciftci win his appeal for the red card but Dundee United have also confirmed that the first charge was not proven. The charge for allegedly seizing the assistant referee is still outstanding and will be heard shortly.
No wonder Dundee United were furious. Having to play 75 minutes with 10 men with a semi-final at stake, when yet another red card was issued with no justification is outrageous. United lost their chance of potential silverware when Inverness Caley scored a late winner.
There's no doubt in my mind that referees now officiate in an entirely different manner since going on strike. Whereas the sensible aspect of refereeing was to try and keep all the players on the pitch if possible, there is now a different approach; it seems to me that if you can justify any sort of red card then do it.
I can't think of many referees who officiate with a fair but firm hand. That's not good enough in my view and Scottish football is suffering because of it.