Ronaldo to return?
Cristiano Ronaldo told Special Report that he hasn't ruled out a return to the Premier League.
Last Updated: 06/09/11 2:23pm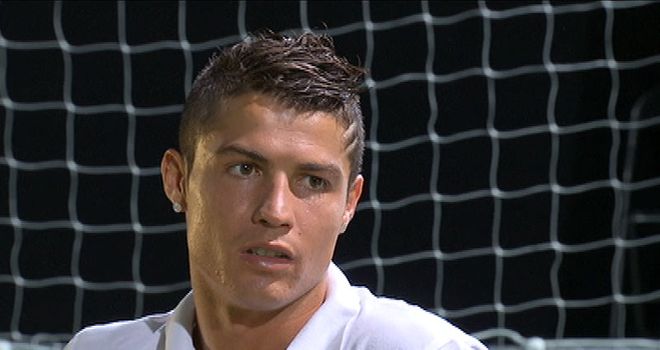 Cristiano Ronaldo told Special Report that he hasn't ruled out a return to the Premier League.
The 26-year-old won three Premier League titles, the FA Cup and the Champions League during six years at Manchester United before moving to Real Madrid in 2009 for a world record fee of £80m.
But he told Sky Sports News HD presenter Georgie Thompson that if he does return to English football, he wouldn't necessarily go back to Old Trafford.
"I don't close the door [on the Premier League] so maybe in the future I hope so," he said, "because I know the league, I know the players, I know the atmosphere.
"Why not? I hope so one day but you never know. The team that I like more in England is Manchester but I cannot say that I am going to play there one day because I am very, very happy in Madrid.
"I've said a few times that if Madrid want, I can sign for 10 years more until the finish of my career but nobody knows the future. I cannot lie to you and say I will stay here 10 years, that I am not going to come back to Manchester. It is not fair on my part. Let's see what future God has prepared for me."
Dream
Thompson caught up with Ronaldo on the set of a studio in Madrid, where a documentary team was carrying out as series of tests to test the winger's skills.
The Portugal international fired home an incredible 54 goals in all competitions last season and has set his sights on eclipsing that haul this time around but insists that collective rewards supercede individual honours.
"I said a few times that to play for Real Madrid was my dream - as it was for Manchester too," he declared. "For me they are the best clubs in the world, apart from maybe Barcelona, Chelsea, Arsenal, Milan.
"I'm really happy with what I did in Manchester because I don't forget the six years that I passed there. I have a lot of friends there.
"Sir Alex Ferguson is my second dad - he helped me a lot to improve and now Mr [Jose] Mourinho too because they are experienced managers who win many things, so for me they are the best coaches.
Helped
"I have good memories from Manchester and when I watch sometimes the games I miss it a lot because it's part of me I left in England. Just because I play in Madrid I'm not going to miss speaking with the old guys, so when I have an opportunity I speak with Sir Alex Ferguson.
"It was important for me when I played there, when my life was there so it is good to speak with him because I'll never forget who really helped me. There is a beginning and end to everything - what I did in Manchester is completely finished because I won almost everything there.
"I always try for a new challenge. To move from Manchester to Madrid is not about the contract - it is about a new challenge, being close to my family, different weather, the language. The most important reason why I moved is the challenge because I really like to put myself under pressure to see what I can do.
"But I really miss the Premier League - for me it is along with the Spanish league the best league in the world."
Sensational
Ronaldo got his first taste of Premier League football in the 2003/04 season after catching Ferguson's eye while playing for Sporting Clube de Portugal against United in a match to mark the opening of the Estádio José Alvalade.
"The boy was sensational, quite simply sensational," recalled Ferguson. "He tore John O'Shea apart and I said to [chief executive] Peter Kenyon 'we're not leaving until we get that boy sorted'.
"We got the boy at the end of the game, and his agent; we flew his parents out the next day by private plane to Manchester the next day and did the deal.
"He grew up quickly, he was a man before his time. Every year there was something added to his game because he practised so much because he wanted to be the best and he worked hard to be that."
Sky Sports pundit Gary Neville, who played alongside Ronaldo at United, added: "This was a player who could shoot from 40 yards, could beat a player with his left or right foot, could head the ball like Joe Jordan; he was unbelievable in lots of different areas - physique, strength.
"He was the complete football player in some ways."
Judge for yourself by watching Castrol Edge Presents Ronaldo: Tested to the Limit at 8pm on Thursday on Sky Sports HD2.
If you've missed any of our previous episodes or want to watch again, you can find highlights of each programme at www.skysports.com/specialreport or the latest episode on Sky Anytime.