Cesc in Barca
Cesc Fabregas told Special Report he has not ruled out a return to Arsenal before his career is over.
Last Updated: 28/12/11 1:34pm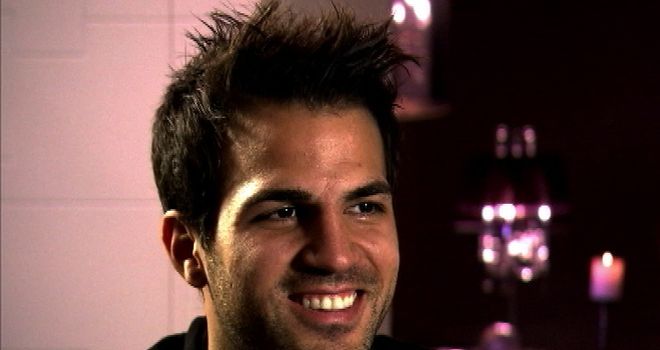 Cesc Fabregas says he has not ruled out the possibility of returning to Arsenal before he hangs up his boots.
Fabregas spent eight years with the Gunners before moving to Barcelona in the summer - the club where he began his football education.
The former Arsenal captain told Special Report that the Catalan giants were the only club he would ever have contemplated leaving the Gunners for and says he still holds a special place for the north Londoners in his heart.
"Apart from Arsenal and Barcelona, I don't see myself playing anywhere else," he said.
"I will definitely be going back (to Arsenal) whenever I have time to watch games and to see the guys, and you never know in the future, why not?
"I hope I will stay here (Barcelona) for a very long time, and maybe even retire here, but why not? In life, you can never say never, and if there is one place to go back to, it is Arsenal for sure."
Bitter sweet
The 24-year-old has slotted back into life in Spain with ease - picking up three pieces of silverware since arriving in the summer, including the UEFA Super Cup.
However, even though he has fulfilled a boyhood dream by returning to the European champions, he admitted the days leading up to his move were bitter sweet.
"I was in London with Arsenal for a very long time and I was so used to the red and white and I just saw it as impossible for me to go back (to Barcelona)," he said.
"First, because I didn't know if I would make it as a professional because I was only 16 and second because when you go from this club it's nearly impossible to come back. So it was a strange feeling when I made my presentation.
"When you see 40,000 people that have come to the stadium to see you, just to do a few touches and some pictures and then the presentations which lasted nearly an hour - for me it was like one of the best days of my life, but at the same time the day before was one of the saddest days of my life."
In his final season with the Gunners, Fabregas admitted he was not nearly as motivated as he knew he should've been and he worried his captaincy was failing to inspire his team-mates.
Motivation
"I came back from the World Cup and I started the season really strong and really well," he said. "I think I scored six goals, I was enjoying my football, I was very happy and then at one stage I started to have injuries and the team was going down.
"It looked like there was no real passion in the team to play. I've always tried my best to make the team go forward and I could see nothing I was saying was really working.
"I was going into training not feeling the same motivation as when I was 16-years-old and I felt a little bit stuck. I felt like I needed a change, like everyone in life who sometimes needs a change or a moment to feel like you're starting again. Now I feel like my career has started again."
But even so, Fabregas repeated just how difficult it was to leave Arsenal and, in particular, manager and mentor Arsene Wenger.
Confidence
"It was very hard, the hardest decision I have ever made, even if it was my dream to play for Barcelona," he said.
"I had many conversations with the boss, all of them very difficult and in some of them I couldn't even talk.
"I'm not embarrassed to say the day I left all I could say to him was thank you very much. I couldn't talk more. I'm not embarrassed to say I nearly cried. It was very emotional."
"For me he is a special person and always will be," he added. "In football no one has treated me the way he treated me, no one. He gave me confidence from day one. All I have won in football and all I have learnt, it is because of him.
"He made me believe that I was one of the best, he made me believe that."