Gerrard targeting another deal
Liverpool's Steven Gerrard has already set his sights on earning another contract at Anfield despite only just signing an extension.
Last Updated: 13/01/12 7:37pm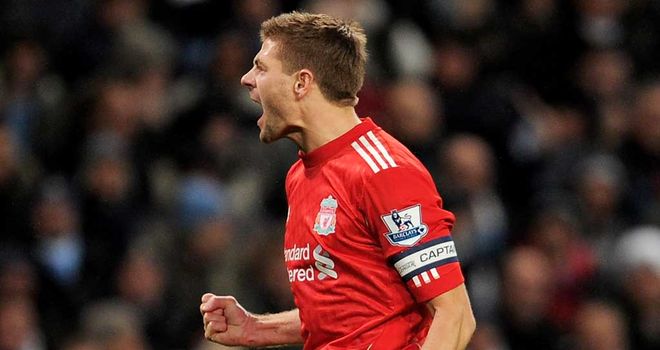 Liverpool captain Steven Gerrard has already set his sights on earning another contract at Anfield despite only just signing an extension.
On Thursday, the 31-year-old agreed a new deal which will keep him at the club until the end of his career - but the midfielder has not set a date on when that will be.
"I'm hoping to play beyond the length of this contract," he told the Liverpool Echo. "I'm feeling fit and strong and I want to play for as long as I can.
No time frame
"I don't want to put any time frame on it. As long as I feel good and I'm performing at the top level I'll keep going.
"Hopefully over the next few years I'll earn another contract with my performances.
"But even if Liverpool don't offer me another contract after this one I don't think I could play for anyone else. I've been at this club since I was eight and I'm living the dream."
Gerrard is sure to get a noisier-than-usual welcome when he leads the team out at home to Stoke on Saturday as Liverpool look to build on the positives of a midweek Carling Cup semi-final first leg victory over Manchester City, their second successive knockout win after defeating Oldham in the FA Cup a week ago.
The captain scored penalties in both those games but the Premier League now takes precedence and manager Kenny Dalglish is looking for his side to build on their last home success against Newcastle in late December having struggled at Anfield this season.
Stoke have proved already they are capable of causing Liverpool problems with a win at the Britannia Stadium in September but the Reds returned a month later in the Carling Cup and won.
Asked what he had learned from the two encounters, Dalglish said: "If you don't score any goals, you don't get any points if you lose one at the other end.
"Every team brings a different problem and we have to deal with the problems we anticipate they'll bring.
"But they've also got to deal with our strengths and we've got a lot of them."
Consistency
After Gerrard and Manchester City boss Roberto Mancini got into a row about Glen Johnson's two-footed tackle in midweek Dalglish said he was just looking for consistency from referees.
"The discussion is not about one person's tackle against the other it is about consistency and interpretation of tackles," he said.
"There are always going to be inconsistencies and human error but there are laws within the game which are as clear as mud."