Redknapp itching to get back
Spurs boss Harry Redknapp is relishing the prospect of returning to the dugout for Friday's FA Cup game, says assistant Kevin Bond.
Last Updated: 26/01/12 11:04pm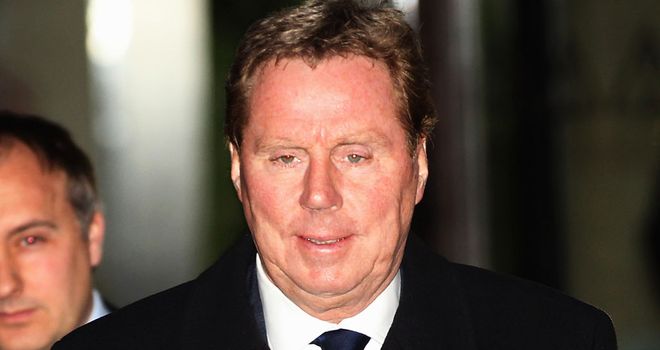 Tottenham manager Harry Redknapp is relishing the prospect of returning to the dugout for Friday night's FA Cup game against Watford, according to his assistant Kevin Bond.
Redknapp has been almost completely cut off from his role as manager this week as he has been at Southwark Crown Court contesting two charges of cheating the public purse.
The 64-year-old will resume his place on the Spurs bench on Friday night, however, for his team's fourth-round clash at Vicarage Road.
A workaholic renowned for his love of the game, Redknapp has been in regular contact with Bond this week to find out how his squad are shaping up for the clash following last week's agonising 3-2 defeat by Premier League leaders Manchester City.
And the former Portsmouth and West Ham manager is keen to return to action, according to his assistant.
Absence
"I was talking to him yesterday he was keen to know our thoughts on Watford and how we are looking," said Bond, who has been in charge in Redknapp's absence.
"We made preparations to come to the game and he was genuinely looking forward to it."
Bond, who has worked with Redknapp at West Ham, Portsmouth and Southampton, misses Redknapp's company during the 125-mile trip they share together to work and is in no doubt that the manager also misses being able to look after first-team affairs at their Chigwell base.
"He thrives on being at the training ground. He likes the environment, he enjoys it," Bond said.
"He is always full of conversation, full of stories. Not driving up and down with him for the last few days has been a lonely old drive in the mornings."
Bond was keen to emphasise today that Redknapp's absence has not hindered the squad's preparation for what promises to be a crucial part of their season.
The fourth-round game at Vicarage Road is followed by a home game against Wigan on Tuesday and a visit to Anfield four days later.
The club managed without Redknapp for two weeks last November after he had a minor procedure to unblock coronary arteries and Bond insists the players, and the manager himself, remain focused on football matters despite this week's trial.
"He has been no different to how he has always been," Bond said. "He appears, when I speak to him - and I would know - to be every bit as focused as he has been.
Carrying on
"We haven't felt we had to have a conversation with the players. Everyone is aware of the ongoing situation and everybody gets on with it.
"Harry wasn't here for a few days a few weeks back and really we are just carrying on without him.
"To a large degree the training is exactly the same, it's just that Harry is not there overseeing it all. The players all understand that, we all understand that and get on with it in the same way as if he was here."