Tevez - Treated like a dog
Carlos Tevez has accused Man City boss Roberto Mancini of treating him 'like a dog' during their infamous bench bust-up at Bayern Munich.
By Rachel Griffiths - Follow me on Twitter @SkySportsRachG
Last Updated: 13/02/12 9:58pm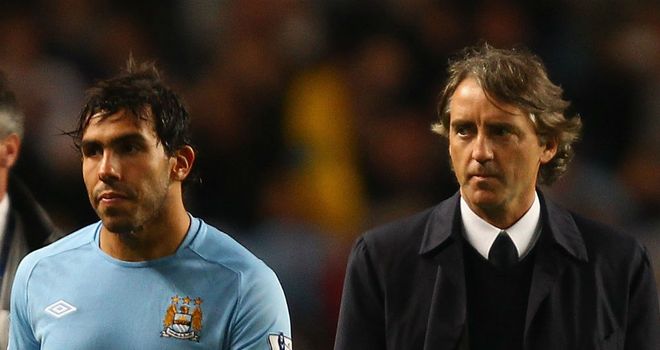 Carlos Tevez has accused Manchester City manager Roberto Mancini of treating him 'like a dog' during their infamous bench bust-up at Bayern Munich back in September.
The Argentina international has not featured for City since before that night, when he refused to warm-up against Bayern in the UEFA Champions League with Mancini's men losing 2-0.
He has spent the past couple of months AWOL back in his homeland after failing to secure a January move away from the club, with his City career appearing to be over.
However, the striker is due to return to England on Tuesday and Paul McCarthy, who is an advisor to Tevez's representative Kia Joorabchian, confirmed earlier on Monday recent discussions have paved the way for him to return to Mancini's squad.
The forward has broken his silence on the Bayern incident ahead of returning to Etihad Stadium and has hit out at the manager's treatment of him during the row.
Bad mood
Tevez claims he sat back down on the bench after warming up because he believed Mancini was employing a more defensive approach after taking off striker Edin Dzeko and replacing him with holding midfielder Nigel de Jong.
"I was kind of in a bad mood and when (Mancini) brings on De Jong and takes off Dzeko, and we're losing 2-0, I thought it was a defensive substitution. So I decided to sit back on the bench," he said in an interview with Fox Sports in Argentina.
"So I'd already warmed up for 10 minutes and he has this attitude that he wants to lose 2-0 instead of 4-0.
"So I sat down and at the same time Dzeko comes off and is really angry and has a go at Mancini. He then sees the tunnel is closed so he has to sit down next to him and they start to have an argument.
"Dzeko was speaking Bosnian and Mancini would swear at him in Italian, so it was a real mess.
Foul mood
"So I go and sit down and he doesn't see me because he's having this discussion. But then he turns around and sees me and you can imagine what happens. He's in the middle of an argument.
"So then he tells me to keep on warming up and treats me like a dog. So when he spoke to me in that tone of voice I said 'no I'm not going out'.
"So I was willing to play but the coach was in such a foul mood, because he had that argument with Dzeko, he started on me as well, started swearing at me.
"That was him, because I was very calm. I was just sitting on the bench and you could see from the footage I was calm and just talking to (Pablo) Zabaleta. Mancini said some horrible things to me."