Kia - Tevez wants to come back
Carlos Tevez remains committed to helping Man City win the Premier League title, according to his representative Kia Joorabchian.
By Rob Parrish - Follow me on Twitter @skysportsrobp
Last Updated: 14/02/12 9:00am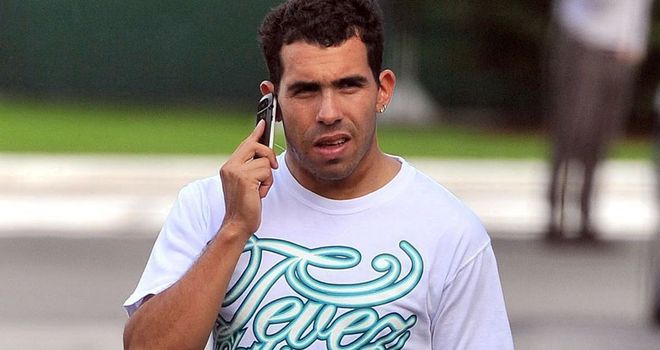 Carlos Tevez remains committed to helping Manchester City win the Premier League title, according to his representative Kia Joorabchian.
The Argentina international is flying back to England after two months in his homeland in an apparent attempt to resurrect his career with the Etihad Stadium club.
But the striker could face a frosty reception after accusing manager Roberto Mancini of 'treating him like a dog' during their infamous bust-up during the UEFA Champions League clash with Bayern Munich back in September of last year.
Tevez has given a lengthy interview to Fox Sports in Argentina, during which he spoke about his clash with Mancini, and also numerous other subjects, including his willingness to work hard in a bid to regain his place in the hearts of the City supporters.
And Joorabchian told Sky Sports News: "As usual, unfortunately, the media have only published three or four minutes of a 48-minute interview. If you take the whole interview, you would see it is quite different to being combative.
"He wants to come back, Manchester City have been very good with him as a club over the last couple of months. This has been a difficult situation for club and player, they have been very good in trying to resolve all the matters.
"We are at a point where both Carlos and, I hope Mancini feels the same way, that they can work together. The main objective, which Carlos says in his interview, if he can and he is permitted to get back on the pitch he will do his best to help City win the title."
Resolved
Mancini had previously intimated that he would give last season's top scorer and the club's former captain a second chance if he offered an apology for his actions, but Joorabchian believes it is best for Tevez and City's manager to discuss this away from public scrutiny.
"This is between Mancini and Carlos," he added. "I think they have pretty much resolved their issue behind closed doors. What is important is that the football takes over. One of the issues we have at the moment is that we have talked about everything but the football.
"The reality is that if Carlos can help City, and City want that help from Carlos to win the title between now until the end of the season, then that is what needs to happen and that is everyone's goal.
"He is saying that he will get himself ready, as the club have requested him to do. The club have said Carlos coming back can only be an asset to them. I have spoken to the club today, I have spoken to the club regularly
"From a football point of view, Carlos can only been an asset. He and Mancini have obviously managed to resolve issues. What he has explained in his interview is how he felt back then. I think the club and Carlos are taking this in a very positive way.
"He has a lot of repairs to do with the fans, he realises that and he has said he is ready to apologise in the interview - if you would look at it in its full length - if he has done something wrong. He sincerely never felt he was doing something wrong at the time. He understands that his actions may not have implied that."