Cameron aims to 'crush' racism
Swift action is required to "crush" any return of racism to football before it impacts on wider society, Prime Minister David Cameron has said.
Last Updated: 22/02/12 5:19pm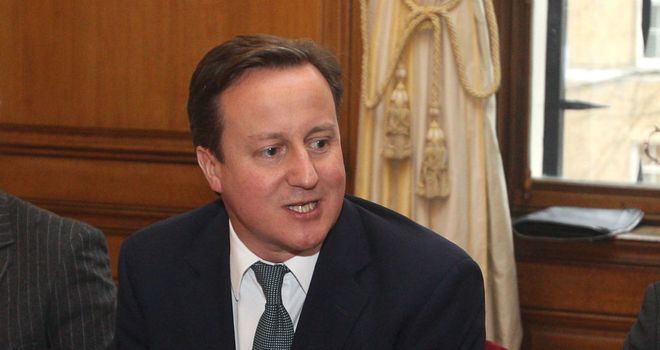 Swift action is required to "crush" any return of racism to football before it impacts on wider society, Prime Minister David Cameron has said.
The PM said he had seen for himself the influence that behaviour on the pitch could exercise over young children and others off it.
But, speaking at the opening of a Downing Street anti-discrimination summit with former players and football bosses, he expressed confidence that the good work of two decades in battling prejudice in the sport would not be lost.
Mr Cameron said: "If everyone plays their role, then we can easily crush and deal with this problem."
He told the panel, including former England stars John Barnes and Graeme Le Saux, that he often took his young son to local football matches and had seen the impact the game had.
"What happens on the field influences what happens off the field. You see children as young as six imitating the behaviour they see on the field," said Mr Cameron.
"So this is not just important for football, it's important for the whole country."
Do Good
The Prime Minister said there were many "extraordinary role models" among professional footballers but that problems with racism had "crept back in".
"We want to make sure football is all about a power to do good, rather than anything else," he said.
The event to promote a more "inclusive" sport comes amid fears that high-profile incidents are harming football's image.
Earlier this month Liverpool forward Luis Suarez was forced to apologise for refusing to shake hands with Manchester United's Patrice Evra before the teams' match. Suarez had only recently returned to action for Liverpool following a ban for racially abusing Evra during a game in October.
England star John Terry is due to face trial over the summer on charges of racially abusing QPR's Anton Ferdinand. Terry denies the charges.
The meeting is also looking at homophobia, with Amal Fashanu, who recently made a documentary about homosexuality in the sport, 14 years after her footballer uncle Justin hanged himself, also among those attending.
Mr Cameron said the UK should be proud of the "fantastic achievement" of the campaign to rid the sport of racism over the past two decades - noting that other countries had failed to take similar action.
Act quickly
"But we have some problems still today. We need to act quickly to make sure those problems do not creep back in.
"I hope what we can agree today is to make sure that everybody who has the ability to deal with this issue takes the steps they can. I am sure we can crack this problem."
That included the Government, clubs and other football bodies, he suggested.
Mr Cameron joked that he felt embarrassed coming from question time in the Commons to address the issue as it was "a contact sport that sets an appalling example to people".
Football Association chairman David Bernstein said his organisation was working at all levels from the grass roots up to deal with the issue and was determined not to allow any complacency because of the past success.
The governing body had already shown its willingness to deploy "very tough sanctions where necessary", he said - calling for action across the board from fans to players to managers, chairmen and authorities.