Lambert - British is best
Norwich manager Paul Lambert believes there has been a positive change in attitude towards British bosses in the English game.
Last Updated: 24/03/12 12:03pm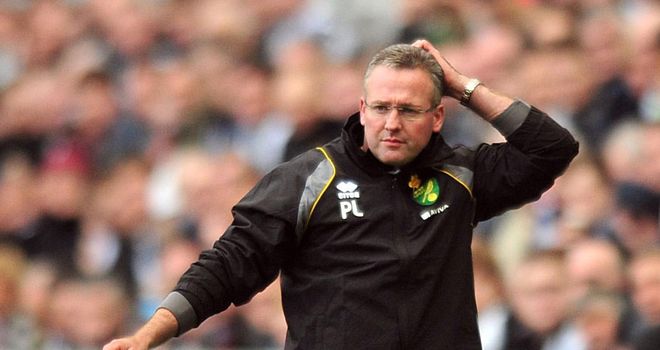 Norwich manager Paul Lambert believes there has been a positive change in attitude towards British bosses in the English game.
The Scot has been widely praised for guiding the Canaries to two successive promotions and keeping them in the relative safety of mid-table in the Premier League so far this campaign.
Another newly promoted boss, Brendan Rodgers at Swansea, has also excelled in the top flight, while the likes of Nigel Adkins and Brian McDermott have carried Southampton and Reading to the top of the Championship.
With Spurs manager Harry Redknapp widely tipped to take the England job in the summer, Lambert feels British-born managers are finally being given the recognition and time to demonstrate their skills, with the top-flight chairman previously appearing to favour foreign coaches.
"At the moment, I think there's a change in attitudes towards British managers," Lambert told The Sun.
"The ones you have mentioned, Rodgers, Adkins and McDermott, have done great for their clubs.
"Also, get a look at what David Moyes has done at Everton and also Martin O'Neill. It's no surprise to me what he is doing at Sunderland.
"They are great managers and I am sure they could manage at even bigger clubs.
The Greatest
"Look at Alan Pardew at Newcastle and Harry Redknapp who has done an unbelievable job at Spurs. Then you have the greatest of them all, Alex Ferguson, at Manchester United."
Norwich take on struggling Wolves on Saturday, a side who sacked their manager Mick McCarthy in an attempt to kick-start their survival push.
The upturn in results has not arrived however, with new boss Terry Connor losing three of his four games in charge to see the Black Country outfit slump to the bottom of the table.
Lambert believes Wanderers made a mistake in sacking the Barnsley-born boss.
"Their confidence looks very fragile since Mick left and it was definitely the wrong decision to let Mick go," added the 42-year-old.
"They have now put his No 2, Terry, in charge and he has got a mammoth job on his hands.
"Basically, he has just been thrown in the deep end and now it's a question of whether he is going to sink or swim.
"I just think that sacking Mick was wrong, simply because of the drive and the passion he has.
Best he can
"Terry was part of it all under Mick and he is obviously doing the best he can at the moment.
"Getting rid of Mick was a big thing - but from a football point of view I think it was a big mistake."
Lambert has no such worries in Norfolk, where he is highly respected for the remarkable job he has done with the club in such a short space of time.
When asked about his managerial ambitions the former Celtic midfielder was quick to commit his immediate future to Carrow Road, but didn't hide his desire to reach the very top.
"I want to take Norwich as far as possible, I want to win things," he insisted.
"I had it a lot as a player. I won some big things as a player but I'd love to do it as a manager.
"You always want the best and I am no different. I will give the board a list of players I want in the summer.
"You have to push things - in terms of the players you ask for - to move forward. I don't want to stand still and be mediocre. I want to drive it on.
"What we have done these last two years is amazing and staying up this season would be another great achievement.
"But I take nothing for granted, you cannot do that in this job."