Richards - I wanted to cry
Micah Richards admits he wanted to 'cry' when Man Utd opened up a lead and says it is 'gutting' that Man City have slipped off the pace.
Last Updated: 11/04/12 9:00am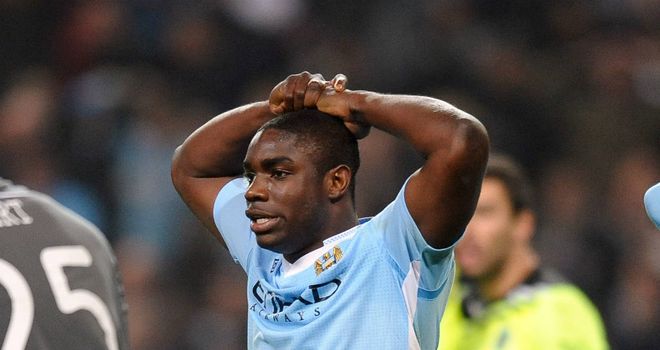 Micah Richards admits he wanted to 'cry' when Manchester United opened up a lead in the title race and says it is 'gutting' that Manchester City have slipped off the pace.
City led the Premier League for much of the season, but have been overhauled by local rivals United in recent weeks and now lag eight points adrift of the reigning champions.
United went five points clear last week with a 2-0 victory at Blackburn Rovers which was secured by late goals from Antonio Valencia and Ashley Young.
That was followed up by a 2-0 success over Queens Park Rangers a couple of hours before City lost at Arsenal, and Richards is devastated at how the title race has panned out.
Horrendous
"At half-time and at 60 minutes I thought, 'You never know'," Richards told the Daily Mail regarding United's win at Blackburn in an interview conducted prior to City's loss at Arsenal. "But United do always look like they will score. So I knew it was gonna come. But when they got it and went further clear of us, I actually wanted to cry and I haven't done that or felt like that in years.
"Football is full of emotions. You get angry and happy but I have never wanted to cry before.
"This time I did as that is how much it means. I have been grafting so hard this season, we have played unbelievable football and to see United come like this is horrendous. It kills me.
"I care so much about how I play and how we do in games. If things go badly in a game, I just can't sleep."
Learn
The defender added: "We have to learn from these experiences. Someone will take the title from United eventually and it has to be us. If you look at this season you will see Man City are by far the best team to watch. But Man Utd grind it out. They have done for many years.
"I don't want to disrespect them as they have outstanding players and a great team spirit that has carried them a long way this season. But we had the best start in Premier League history and to be several points behind now is a bit gutting. If I'm honest, it just hurts.
"For seven months we have been on top of the league playing good football but now, when it really matters, we have for some reason taken the foot off the gas.
"When United don't play well they seem to get results. When we don't play well, we get beaten. That's the difference.
"Man Utd - no matter who are playing for them - just know that they have to get the job done. They are willing to do anything.
"With us, it's like, 'Oh . . . we have dropped some points but we will be OK in the next game'. It's not the case. If you want to win the league, every single game you have to be on it. "We all know how to play football but we have to approach every game as if it's vital. I won't give up on the title until we can't win it."