Rodgers - I feel blessed
Brendan Rodgers has spoken of his pride at being appointed as the new manager of Liverpool, on the day that he was officially unveiled at Anfield.
Last Updated: 02/06/12 7:46am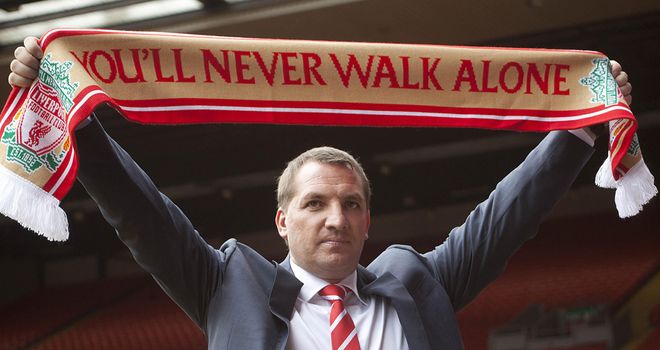 Brendan Rodgers has spoken of his pride at being appointed as the new manager of Liverpool, on the day that he was officially unveiled at Anfield.
The Reds parted company with club legend Kenny Dalglish at the end of the 2011/12 season, with Carling Cup success failing to paper over the cracks that appeared during a disappointing Premier League campaign.
An eighth place finish was deemed unsatisfactory and the Liverpool board - led by owner John W Henry - took the decision to take the club in a different direction.
Numerous candidates were considered, with Wigan boss Roberto Martinez among them, but Rodgers was quickly identified as the Reds' top target.
They were granted permission by Swansea to open discussions and a deal has been agreed.
Rodgers is delighted to have inherited the reins at one of world football's most iconic clubs and is looking forward to the challenges that lie ahead.
Proud
He told a press conference shown live on Sky Sports News HD: "I'm very proud, as you can imagine. I'm only the second Northern Irish manager in the history of the club. It's a club of wonderful tradition and I feel very blessed by the opportunity to manage the club."
Rodgers had initially turned down the opportunity to discuss the vacant post at Anfield, but admits he was left with an easy decision once it became clear that he was Liverpool's top choice.
He said: "I spoke to the chairman at Swansea and I always said that if I was to leave Swansea City, it would be for a top club and I would have to be the number one choice. At that time I was maybe in a process, so I was happy at Swansea and wasn't looking to leave.
"When Liverpool came back in for a second time and said I was the number one choice, then you have to think seriously about it. I spoke with the chairman Huw Jenkins, who is a fantastic man, and he gave me permission to speak. Once I found out that I was the number one target from the important people at Liverpool, then it was quite an easy decision."
Rodgers will be charged with the task of guiding Liverpool back into contention for major honours during his tenure - most notably the league title - but he has called for patience as he attempts to put his own stamp on the club.
Process
He said: "Footballers want to learn, they want to be educated and they want to improve. That's something I have done with all types of players, young and old throughout my career.
"This is a long-term plan, that was important for me. It's going to be over a number of years. First and foremost I want to defend the principals of this great club, which is about offensive, creative football but with technical discipline and to maintain the values of the club.
"It's been over 20 years since they won the title - they might not be ready for the title now, but the process begins today and it's a new cycle. That's something we will work towards in the years to come."
Rodgers inherits a squad brimming with international stars, but admits he will be looking to identify areas that require strengthening as quickly as possible.
He said: "The assessment is simple - there is big quality in the club, there is no question about that. I am looking forward to working with some of the greats of this football club. Liverpool is a club that produces fantastic players and has great players - Steven Gerrard and Jamie Carragher, greats of the Premier League.
"For me, it's going to take a bit of time to get how I want to play and the philosophy. The principles of your game are based on the players that you have. There is no doubt that I will look at what we have and then see if we need to bring anyone in to improve that."