Given gets green light
Shay Given has been cleared to take part in the Republic of Ireland's opening game of Euro 2012 against Croatia on Sunday.
By Rebecca Stephenson
Last Updated: 06/06/12 4:46pm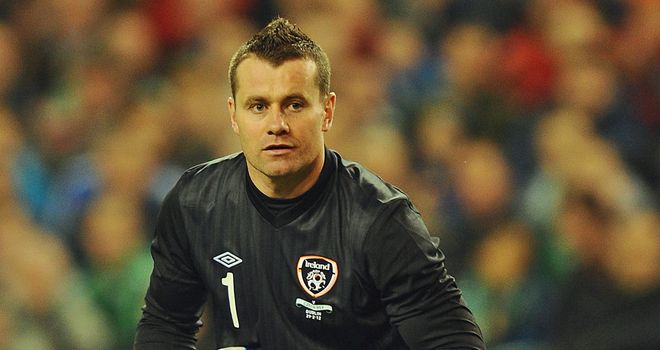 Shay Given has been cleared to take part in the Republic of Ireland's opening game of Euro 2012 against Croatia on Sunday.
The Ireland goalkeeper sat out the open training session in Gdynia on Tuesday with injury, sparking fears that he would miss the game in Poznan.
But Ireland goalkeeping coach Alan Kelly has insisted that the 36-year-old will overcome his recent knee and calf problems to line up for his 123rd cap for his country.
Kelly said: "He's fine. I don't think wild horses could keep him off that pitch on Sunday.
"I think his determination and the willingness he has shown over 16 years to play for Ireland now is not going to go away overnight.
"Once you get a little niggle with a knee, you get compensatory issues. But anyone who saw the game he played the other night wouldn't question his fitness, form or how sharp he is.
Busting
"We had the open day yesterday in front of a really fantastic crowd. He'd played 45 minutes the night before and he was absolutely busting a gut to get involved.
"But I had to put the old reins on him and keep him back. We had travelled overnight and it's nothing out of the ordinary, really. It's just part of his rest and recuperation."
Given's fitness has been in question since he damaged his right knee in training in Malahide last month. He consulted a specialist in London and was told to rest for a week.
And Kelly believes that, despite Given's desire to play, he will be honest about his fitness.
He continued: "Once you go over the white line, you are fit and you have put yourself forward.
"Shay wouldn't do that if it meant it would in any way impair his performance.
"He wouldn't want to do anything that would lessen our chances. He is a professional of the highest integrity and I have no qualms or no problems with him going forward and playing on Sunday."
Jaded
Giovanni Trapattoni gave his players a day off on Wednesday, after winger Aiden McGeady suggested he and several of his team-mates felt jaded in Budapest.
But Kelly denied that the players had instigated the break.
He said: "Who are we to question a manager with 50 years' experience?
"In any situation you are always looking at the players, you are always looking to what you can do to help them best prepare for a game.
"You never have a set programme or routine, you have always got to be open to change.
"We have been here 22 days and I think mentally and physically it is good for everybody that we have been given a bit of time out.
"It's all about Sunday. Whatever you have got to do to get them in the right frame of mind mentally and physically, the manager makes that decision."