Green denies Kennedy talks
Rangers newco chief executive Charles Green has denied his company received a bid from, or held talks with, Sale Sharks owner Brian Kennedy.
Last Updated: 23/07/12 8:38pm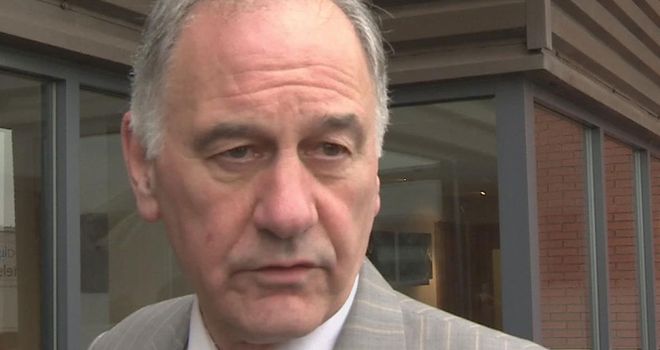 Rangers newco chief executive Charles Green has denied his company received a bid from, or held talks with, Sale Sharks owner Brian Kennedy.
Kennedy announced on Monday he had recently met a Sevco Scotland representative with a view to purchasing a majority stake in the club.
But Green said on Rangers' official website: "For the avoidance of doubt, the owners and board of the club are not interested in selling a majority stake in Rangers to anyone.
No offer
"I have said many times we are happy to talk to potential investors who wish to join the consortium on the basis that no single investor will have a majority shareholding and they support our commitment to a share issue for fans.
"We have checked with all the official representatives of shareholders and none of them have had meetings with Brian Kennedy so we have no idea who the gentleman is he is referring to.
"He has not contacted any board members on this matter and we have never received any written offer from him."
Kennedy had earlier backed up the accuracy of a report that stated he had submitted a £5.6million offer for a 51% shareholding in the club on June 25th.
And he released a second statement later on Monday insisting that he had an official offer rejected and that it remained on the table.
The statement read: "This evening my lawyers have submitted to the offices of Zeus Capital, a copy of the offer document, along with proof of funding, that was considered and rejected by the controlling investors in Sevco around 27th June 2012.
"However, this offer will remain on the table for an open-ended period of time.
"I fully respect it is the legal prerogative of the controlling investors to accept or reject any offers for the shares, but I remain ready, willing and able to support the long-term interests of Rangers Football Club."
Kennedy was involved in two failed bids for Rangers before Green signed an exclusive deal with administrators, which led to Sevco buying the club's assets for £5.5million when it was consigned to liquidation.
But doubts remain over the ability of Sevco to fund the club in the short term after it was consigned to the Irn-Bru Third Division, subject to Scottish Football Association membership.
Rejected
Sevco have rejected at least two bids for the club - one of around £6million from a Walter Smith-fronted consortium and one of £8.7million from a group led by John Brown.
The club announced on Monday season ticket prices had been cut by up to 50%, starting at £65 for juveniles and £258 for adults, but they are not on sale as Sevco need to secure the transfer of Rangers' SFA membership.
Green finished his statement by saying: "Many people had the opportunity to purchase the club prior to our consortium but failed to do so, including Mr Kennedy.
"Talk of yet more bids is a distraction from the very real task of securing SFA membership and rebuilding the club for the future.
"That is our sole focus and should be the priority for everyone with Rangers' best interests at heart."