AVB - Don't write us off
Tottenham manager Andre Villas-Boas refused to be downbeat after his side allowed Panathinaikos to snatch a late point in Athens.
By Rebecca Stephenson (@1rebs)
Last Updated: 05/10/12 7:53am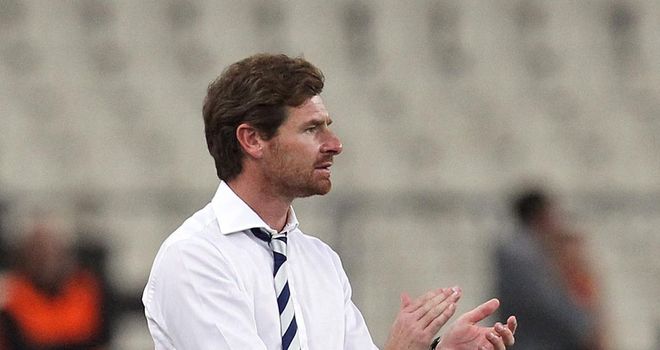 Andre Villas-Boas refused to be downbeat after his side allowed Panathinaikos to snatch a late point in Athens.
Tottenham looked to be in control of the game, but threw away the victory after not capitalising on their domination
Leading 1-0 through a Michael Dawson goal, Spurs never seemed in danger of taking anything less than three points back to London.
But Panathinaikos produced one moment of quality to punish Villas-Boas' side - Giorgos Seitaridis playing Toche through on goal for an undeserved equaliser 13 minutes from time.
But Villas-Boas, whose team now sit third in Group J, two points behind Lazio, brushed aside suggestions his team thought the game was over before the final whistle.
"I don't think we were complacent," he said.
"We have to give credit to Panathinaikos, they pressed much more and started to gain belief from that and that led to the goal.
"I think the whole team felt a bit disappointed because the first half was so positive and we were in control of situation.
Sloppy
"We were a bit sloppy in the second half. I understand the disappointment at not putting the game to bed, but in the end we congratulated the players because if it had been other way round, the whole perspective would have been different.
"Panathinaikos came at us very strong in the second half, they made a change with Ibrahim Sissoko. He improved the quality of their game and could not stay in control of game so much in second half."
With Lazio beating Maribor in the night's other game, Spurs may find it hard to qualify if they fail to beat the Slovenians in their next game, but Villas-Boas is not panicking.
"In the end it leaves us with two points. Maribor have three and Lazio have four so everything is open as we go into the double-headers," Villas-Boas continued.
"It's only after the fourth game that you tend to know who will go through or whether there is any competition for that second place.
"In a group like this, normally 10 or 11 points to qualify."
Desire
Villas-Boas won the competition with FC Porto two years ago and has re-iterated his desire to lift the trophy again with his new club.
"The ambition we set for this competition is to go to the final, to win the trophy," the 34-year-old added.
"It is a trophy this club have won in the past so we embrace this tradition. We will try to qualify from this group and then take it from there."