Premier League: Vanishing spray to be introduced in all games this season
Last Updated: 31/07/14 10:45am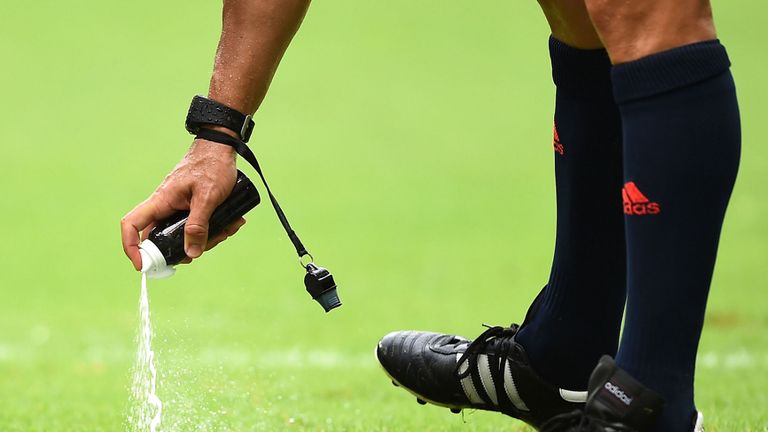 The Premier League has announced that vanishing spray will be introduced in all Premier League games this season.
The use of vanishing spray was one of the big talking points to emerge from the World Cup in Brazil this summer when it was used by referees to mark out a distance of 10 yards for defensive walls at free-kicks in order to prevent encroachment and speed up play.
UEFA has already decided to adopt it for Champions League and Europa League games this season and the Premier League has now followed suit. 
Premier League chief executive Richard Scudamore said: "At the Premier League we are open to developments that enhance the competition and it was clear from watching the 2014 FIFA World Cup in Brazil that vanishing spray benefited referees, players, and all of those who watched the matches."
Mike Riley, general manager of the Professional Game Match Officials Limited, which oversees top-flight referees, was an assessor at the World Cup and recommended it be adopted by the Premier League.
He said: "I saw first-hand the benefits of vanishing spray for referees, and for the game as a whole.
"The Select Group referees are looking forward to using it during Barclays Premier League matches next season."
The bright white foam, which remains in view for around one minute before evaporating, was invented by Brazilian Heine Allegmagne.
Allegmagne worked with a company to concoct the spray from vegetable oil derivatives and it was used for the first time in a competitive match in Belo Horizonte as far back as 2000.
He has now obtained the international patent for the firm - 9.15 Fair Play Limit - with the spray already widely used for matches in Brazil and Argentina.
The spray costs around £3 per can, with FIFA taking 320 of these for the World Cup in Brazil.
Allegmagne, who called his company 9.15 Fair Play in reference to the wall having to be 9.15 metres (10 yards) from the free-kick, said: "The Eureka moment came when I was listening to the radio and the commentator was talking about the wall not staying back. It came to me I could do something.
"I wanted to solve a technical problem that had been plaguing football for more than a century. The big historic moment came in 2000 when the spray was first used here in Belo Horizonte."
Meanwhile, the Football League is to trial the use of vanishing spray in this season's Johnstone's Paint Trophy.
Football League chief executive Shaun Harvey said: "Having seen it used in the recent World Cup, the introduction of Vanishing Spray into the Johnstone's Paint Trophy will give us the opportunity to observe its use in domestic football so that we can better understand its effect on the flow of the game. 
"It will also give us the ability to gauge the opinions of players, managers, referees and fans."