Sky Bet League Two: AFC Wimbledon face fight to return to Plough Lane
AFC Wimbledon's bid to return to Plough Lane has been met by fierce resistance.
Last Updated: 16/02/14 11:03am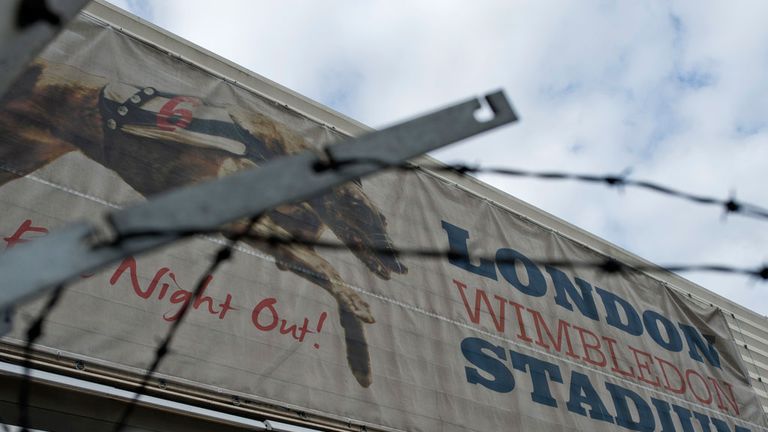 The League Two club want to return to Plough Lane on the site of Wimbledon Greyhound Stadium.
They have the backing of the current landlords, but campaigners hope to win support from the mayor of London in their fight to what is arguably the capital's only remaining dog track.
"They're actually campaigning and putting leaflets around saying 'we're coming home', and surely that presumption is mere arrogance, pure and pure arrogance on their part," said We Want Wimbledon campaigner Diane McLean.
"The greyhound folk have had enough," added McLean. "They are the predator and we're not, we are the innocent bystanders."
Attendances have been dropping at Wimbledon in recent years but McLean says the stadium has been deliberately neglected and is adamant plans for a £60m development labelled the 'Royal Ascot of Greyhound Racing' are viable.
"The mayor in several public documents has said that he would like to see greyhound racing retained here in London in the capital as long as it's viable.
"We have viable plans and business plans and the Irish businessman Pascal Taggart has provided those to both Merton council and to the mayor's office."
AFC Wimbledon have said in a statement that it has always been the club's "primary objective to return home to the London Borough of Merton".
"A detailed study shows that this is the only practical site for AFC Wimbledon to build a new stadium and grow our community-based work."
On Monday campaigners are planning a 'Show of Passion' when owners and their dogs will show their support of the track at London's City Hall.