Evans eager to upset
Crawley Town manager Steve Evans is confident his side can cause the upset of the fifth round in the FA Cup as they face Stoke.
Last Updated: 17/02/12 3:54pm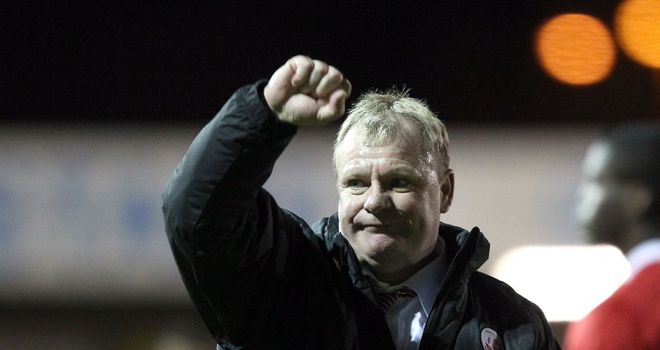 Crawley Town manager Steve Evans is confident his side can cause the upset of the fifth round in the FA Cup as they face Stoke on Sunday.
The League Two side hold the lowest league position of all the teams left in the tournament as they sit fifth in the third tier.
However, with the FA Cup famed for producing upsets and unlikely results, Evans has his sights set on a quarter-final place.
Despite not playing down the enormity of Crawley's task, the 49-year-old is adamant his side will not go into the clash fearful, rather full of expectation.
"I think everybody in football will recognise the size of the task, but the people that set expectations are not owners, not supporters and not managers," he said.
"The people that set expectations are players and our players over the past 18 months have continued to set higher expectations by their performances and their results.
No fear
"I can't say it any louder or clearer that we respect Stoke City, but we certainly don't fear them.
"We know we could be on the reverse of a 3-0, 4-0 or 5-0 scoreline because we are playing a Premier League side.
"But they could be on the end of a 1-0 defeat, couldn't they?"
Crawley have beaten Bury, Redbridge, Bristol City and Hull City so far to book their place in the fifth round and former Scottish Premier League star Evans admits Stoke present an entirely different challenge.
"We cannot take the view that we must match Stoke City physically because they will beat us up," he said.
"If you're not 6ft 3in, you don't get a trial. They're a big side, they're extremely well organised and they are very efficient from set-plays.
Physical
"We need to combat that, but we also need to try and adapt to our style, which is compete as much as we can physically, but try and play."
In preparation for Sunday's lunchtime kick-off, Evans made the trip to the Britannia Stadium to watch Stoke as they lost 1-0 to Valencia in the last-32 of the Europa League and while recognising his Crawley side are in a lower class, the boss still believes they can impose themselves.
"I came back last night and watched a recording of the game," he said. "I heard Craig Burley say that Stoke City's next game was away at Crawley and Valencia's is away at Barcelona.
"We know the type of teams Stoke have been beaten by. We know we're not at the same level as them.
"It is 11 v 11 at 12 o'clock on Sunday and we're going to do our very best to get to the next round.
"I am sure with the run Stoke City is on; probably one of the last places in the world Tony wants to take his team to is West Sussex on Sunday."