Evans eyeing upset
Crawley boss Steve Evans is eyeing an upset when Premier League Stoke come calling in the FA Cup fifth round on Sunday.
Last Updated: 18/02/12 12:34pm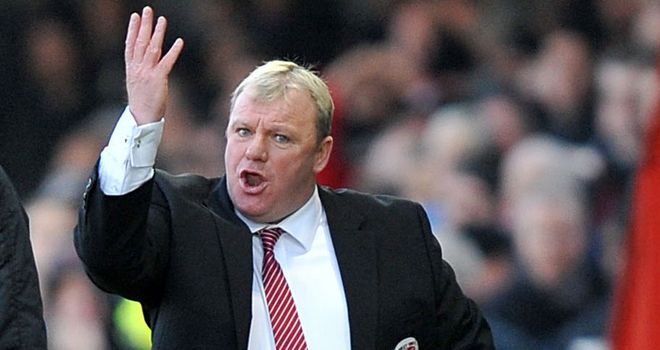 Crawley boss Steve Evans is eyeing an upset when Premier League Stoke come calling in the FA Cup fifth round on Sunday.
The League Two outfit reached the fifth round last year, when they lost narrowly 1-0 to Manchester United at Old Trafford.
The Crawley boss is hoping for a similar impressive performance from his troops when they entertain Tony Pulis' Potters at the Broadfield Stadium.
He told The Sun: "I know Tony Pulis and he really didn't want this. Especially jammed in between two games against Valencia (in the Europa League).
"OK, we know if Stoke play as they can, we will get beaten.
"But if they have an off-day and we are at it, we have a proper tie. Tony knows we beat Derby last year, that we have already knocked out Bristol City and Hull this time round.
"He would have rather had Arsenal or Chelsea at home than us here. He certainly doesn't need this."
Work hard
Evans will tell his players to work hard and give it their best shot on Sunday.
"You really have to graft against them. I've seen teams bow and buckle under their pressure but we won't be outmuscled. In a cup tie like this, you have to have a go," he said.
But he added the club will treat the Potters with the upmost respect, as they received from Manchester United and fellow Glaswegian Sir Alex Ferguson last year.
Evans joked: "We spent so much time with Alex after the game, I think he thought we were staying the night!
"But he was incredibly generous with his time. After one-and-a-half hours, he got his coat and went out to his car.
"He then saw all my relatives from Glasgow on the coach and spent another 30 minutes having photographs taken and signing autographs. What a man.
Wonderful memories
"We want more wonderful memories on Sunday. When we went to Old Trafford, it was important we left with respect and dignity.
"It's the same with Stoke. I want Tony Pulis and his players to leave here knowing they too have been treated with respect.
"Even if we are a bit rude and beat them!"
While Evans will be without prolific Matt Tubbs after he was sold to Bournemouth for £800,000, the club have Tyrone Barnett, a £150,000 summer signing from Macclesfield.
Evans added: "Everyone has this idea we have money coming out of our ears. But our owners say everyone has their price.
"I begged them for two days not to sell Matt but it didn't do any good.
"But at least we still have Tyrone. He's got 15 goals and is the best striker outside the Premier League. Yes, I know that's a huge statement."