Le gossip
Paris-based correspondent Jonathan Johnson scours the French newspapers and taps up his sources to provide an overview of what's going on across the Channel.
By Jonathan Johnson - @Jon_LeGossip
Last Updated: 31/07/12 8:24am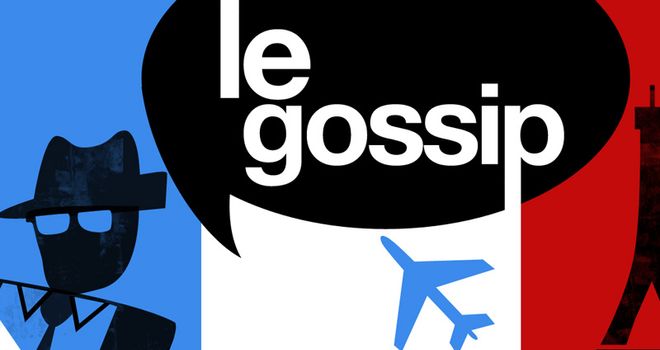 With Paris Saint-Germain's transfer dealings currently helping to shape the European transfer window all eyes are on Ligue 1, with an abundance of France-based talent on the radar of Premier League sides. Whilst traditionally Europe scours the French market for top value talent, this summer's transfer dealings reflect a massive change in Ligue 1's status. No longer just an exporter of talented footballers, Ligue 1 now does its fair share of importing too.
Rumours:
Marseille suffered an agonising decline last year as Didier Deschamps oversaw what proved to be a regressive season for the Provence outfit and the club appear set to pay the price for their now-departed coach's failings. L'OM failed to capture a UEFA Champions League berth and only managed to secure Europa League football thanks to their third Coupe de la Ligue success. As a consequence, the fallen giant's top talent is being eyed all across Europe, with particular interest from the Premier League.
Classy Spanish full-back Cesar Azpilicueta has been touted as a potential transfer target for Chelsea for some time and his recent admission that they have been in contact already suggests that a deal could be close. The club have confirmed that Azpilicueta or tenacious midfielder Stephane Mbia will leave the club this summer and it appears that the Spaniard is the more attractive of the pair. Chelsea are not the only side interested in Azpilicueta's signature.
Speaking recently from Spain's Olympic base, he said: "Nothing is decided as yet so let's wait and see what happens. It is flattering when you have clubs such as Chelsea interested in you, but there are other clubs interested as well."
Talented striker Loic Remy, who had been linked with Tottenham during Harry Redknapp's time in charge, has also emerged as a Premier League target. Newcastle have had great success in their recent cross-Channel dealings and are reported to have made an approach for the player who, despite insisting he is happy where he is, has made it clear that he will consider any offers seriously and favours a move to England.
Another striker who could be joining him is Evian's Yannick Sagbo, who has been linked with moves to Queens Park Rangers and Fulham. The athletic Ivorian enjoyed a fruitful past season with Evian, as the Ligue 1 managed a top half finish in their first season of top flight football. The club are adamant that the player will not be sold unless the club receive a suitable fee and a replacement is found.
One player who will not be making the jump to the EPL this summer it seems is Rennes' fantastic combative midfielder Yann M'Vila. Arsenal manager Arsene Wenger recently cast doubt on a potential deal by revealing that current injured stars Abou Diaby and Jack Wilshere still feature heavily in his plans, before admitting on the Gunners' tour of Malaysia that he was no longer interested in the Breton's star man.
The France international has seen his stock drop massively since Euro 2012 and has told the club he wants to leave. Les Rouges et Noirs admit they need him to go before they can press ahead with their own transfer dealings, but Arsenal's withdrawal from the race for his signature puts Rennes and M'Vila in limbo.
Done deals:
Whilst Zlatan Ibrahimovic was being paraded in front of the Eiffel Tower, Sochaux striker Modibo Maiga was finalising his switch to West Ham United. Although not in the same league on or off the pitch, the Malian could prove to be extremely smart business for Sam Allardyce's men and equally as controversial. As temperamental off the pitch as he is lethal on it, Maiga was instrumental in helping Sochaux secure their top flight status last term. Nine goals in a campaign where he spent half of his time rotting in the reserves following a fall out with les Lionceaux's hierarchy demonstrate his quality.
The move to the East London represents a new start for a player desperate to shake-off his troublemaker tag and the four-year deal he has signed illustrates good faith from new boss Allardyce, who has an impressive history of nurturing troubled characters to significant success.
Speaking after he made the move Maiga admitted that he had been made to feel welcome from the off: "I am really happy and excited about joining West Ham. They have a huge tradition and it is like joining part of a family, and that is one of the main reasons that I wanted to come here."
Expected business:
Despite the heavy volume of transfer rumours circulating, Mathieu Debuchy's drawn out transfer from Lille to Newcastle could be nearing a conclusion. With Lille holding out for big money for one of their prized assets the Magpies are thought to be growing impatient and according to reports in France, have issued les Dogues with an ultimatum.
Debuchy has made it clear to his employers that he is set on leaving the club but manager Rudi Garcia is reluctant to part with his star defender, despite the signing of Djibril Sidibe from top-flight newcomers Troyes as a potential replacement. The deal is thought to be likely to go ahead despite Alan Pardew's hard-line stance with the former French champions, but the two clubs will need to come to a compromise. Expect progress to be made within the next few days as France continues to boil over with transfer activity.
Ligue 1 transfer dealings:
Paris Saint-Germain have finally landed the big-name superstar signing they had been threatening to bring in ever since QSI arrived in France's capital last summer. In Zlatan Ibrahimovic they have a world-class footballer whose reputation transcends European football. 'Ibra' is a world-recognised name and the 30-year-old Sweden international captain is the biggest star to have graced Ligue 1 for many years. Undoubtedly he is the most important transfer in French football history; a watershed moment that has seen Ligue 1 become a major player in the future of European football.
However, whilst all the attention is on events in Paris, a number of their domestic rivals have flown under the radar to strengthen their own squad. Although unable to boast the big names and the glitz and glamour of PSG's Qatari millions, Montpellier and Lille have been adopting some innovative transfer policies to ensure that they remain competitive. It has also been encouraging to see a number of promising stars opting to stay in Ligue 1 rather than chasing their fortunes in a rival league.
Perhaps Leonardo and Carlo Ancelotti's shopping list is not as financially shrewd as those of their rivals but the imagination shown by the club, particularly with the Ibrahimovic deal, is doing wonders for the league.
The arrivals of Ezequiel Lavezzi, Thiago Silva and Marco Verratti have more purpose and invention than some of the unnecessary signings made by the club last year. Whereas each new arrival fits PSG's new philosophy and will be part of the club's future plan as it moves forward, the fortunes of some of last season's signings are less clear. For the league as a whole though, Nancy's ability to bring in Yohan Mollo on a permanent deal, Evian's outright purchase of Daniel Wass and Marseille's snaring of Nantes' Florian Raspentino is proof that the outward flow of domestic talent is not as strong as it has been in recent years.
With the arrival of more stellar names France will not only become a more enticing prospect for potential arrivals but also help convince those considering a move elsewhere to stay put. Whether Kaka arrives in a late dash to seal a move to Brest before the transfer window slams shut remains to be seen, but the fact the country's biggest clubs are managing to keep hold of some of their most talented assets bodes well for the future development of the domestic game.