Free Agent
The next free agent to fall under our microscope in his search for a new club is former Barnsley and Blackpool striker Daniel Bogdanovic. Over the next month we'll be speaking to a host of footballers at a crossroads in their careers as they look to get hooked up for next season.
Last Updated: 01/08/12 10:14am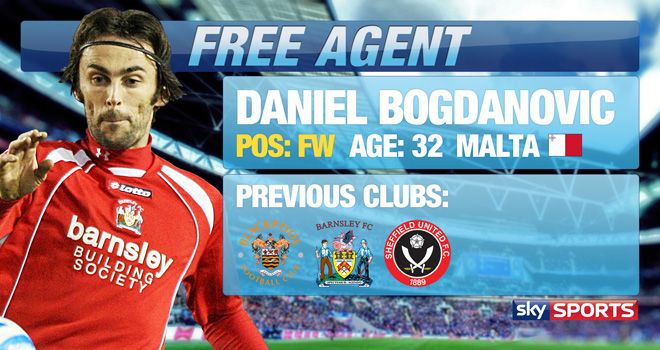 Daniel Bogdanovic may have been cast into the free agent pool this summer, but he is confident that he will not be left thrashing around for long.
The 32-year-old striker has shown during a four-year stint in England that he can be a handful to Football League defences.
The Malta international has spent time leading the line for Barnsley, Sheffield United, Blackpool, Rochdale (loan) and Notts County (loan).
He already has offers on the table, with interest in his services steadily building, but is reluctant to rush into anything and intends to hold out for the deal he believes is best for him.
What's your situation at the moment? Has there been much interest?
I have had a few contract offers. I had one on the table from Notts County and a few other offers from other clubs, but it's not what I'm looking for at the moment. I'm just waiting and seeing what is going to happen in the next few weeks.
Is it just a case of keeping your options open at the moment?
It is. The situation in England has changed a little in regards to wages and everything. I have to be honest and I have bills to pay. The cost of living I had last year, I committed myself to a property - renting a property. Financially it's not going to cover everything. Football is not only about money, but when you get to the end of the month and you have to pay your bills, it's not something you can rush on. I just have to wait until the right offer comes along.
Have you been keeping yourself fit?
I have started my pre-season with a club back home. I will also be training with the national team because we play on the 13th August, I think. That will be the first international of the season. I'm training and keeping fit. I have started my pre-season already, two weeks earlier than most clubs in England. I am fit and I am just waiting for the right opportunity and the right club.
Are you hoping to stay in England?
I have kids in school there and everything. I have been here nearly five years now and I consider it to be home. That's my first option. I have had offers from overseas and they are still on the table, but I'm just going to wait and see what's going to happen in England first.
Is it important for you to have stability, after travelling the world during your career?
It is. For me, football has been about learning things in life. I have played for some different clubs but now I have reached a point where you need to settle down with your family. I'm not a kid anymore so I can't just wander around and see new things. I just have to decide where I am going to be. We have decided we want to stay in England, so that is my wish. I want to stay in the UK as long as I can and I know that I have a few more years left in me - a few more good years. I'm sure I deserve a place in England for what I have done in the last four or five years. It's just about being patient, being fit and ready so when the right offer comes I can grab it with both hands and do my best, which I have always done.
Have you given any thought as to the level you would like to play at?
I know my worth as a footballer and I have never been big-headed. I've earned my place. Last season I went on loan to Notts County and did well. Championship or League One? My aim is always to play as high as I can. The Championship is the first preference for me, but I wouldn't turn my back on a good League One club and a club which is aiming to get promotion or aiming to do some good things.
What do you consider to be your best attributes? What would you bring to a new employer?
I have a lot of experience. I have been playing football for a long time, and in the UK for long enough. Physically I am like a 20-year-old, and that's proved by the stats that people have on me from the Prozone. When I was at (Sheffield) United and Blackpool, I was always one of the fittest in the team. Although I am 30-odd, physically I still feel like a 20-year-old. Football-wise, I can always nick a goal, as they say. I have always scored goals and done good things for the team wherever I have been. It's just about finding the right place and the right club to do well.
We would like to hear your thoughts on the best free transfers out there. Who should we be talking to? Who are this summer's bargains? Who should your club be targeting?
Maybe you are a player that would like to be featured, or an agent looking to get a client fixed up for next season. To offer your suggestions fill in the feedback form below or get in contact with either chris.burton@bskyb.com (@SkySportsChrisB) or alex.dunn@bskyb.com (@SkySportsAlDunn)