What's the story?
Arsenal's interest in Santi Cazorla is in the spotlight as we continue our new feature 'What's the story?' that looks to dissect the day's transfer news. Each morning we'll peruse the transfer tales making headlines and get to the bottom of the one that seems to have the most legs.
Last Updated: 02/08/12 1:32pm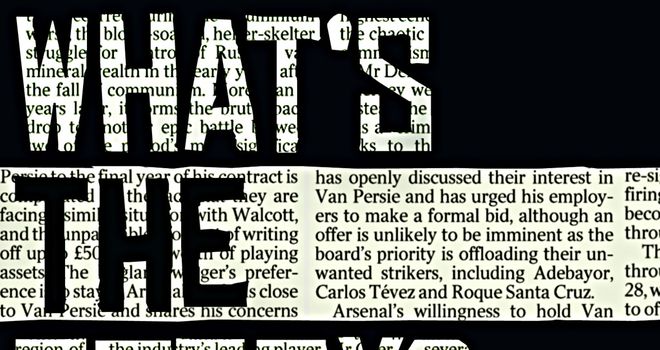 What's the story? It's all about Santi Cazorla jetting into London this morning. Like a spurned partner splashing his cash around town, Arsene Wenger appears determined to show Robin van Persie just what he's missing. This week the Arsenal manager is flirting outrageously with a sensational Spaniard as he looks to add to his increasingly impressive midfield options. Just don't mention the defence.
Who's saying this? Every news source in the country, including Sky Sports, seems convinced Cazorla has flown to London for a medical. It's a similar story in Spain. Marca claims "Cazorla is highly likely to be the first transfer away from Malaga" as the club desperately try to raise cash. AS added on Thursday: "Cazorla departed for the capital London, where he hopes to pass a medical and sign his new contract. The Spanish player had a contract for four years but economic difficulties have precipitated a move to Arsenal. Though his buyout clause is €45million, the crisis plaguing Malaga can force the owner to sell to the English club."
Hold on, Malaga have loads of money don't they? Apparently not. Having secured UEFA Champions League football for the first time in May, this was supposed to be the summer that Malaga kicked on to become Spain's answer to Manchester City - adding a second wave of signings to the purchases of Cazorla, Julio Baptista, Martin Demichelis and Jeremy Toulalan. Instead, players have not received their wages, creditors have not been paid and the club's Qatari owners appear desperate to sell up and walk away. There are even dark rumours that football was never the primary motivation for investment from the Middle East in the potentially lucrative Andalusian region of Spain. In short, it's all gone horribly wrong.
Is he any good though? Just a bit. Cazorla has gone under the radar of British audiences as one of the few players in the Spain national team who doesn't play for either a Premier League club or one of the big two in La Liga. But the 27-year-old's reputation in his homeland is considerable. Cazorla, then at Villarreal, featured in five of Spain's six games in winning Euro 2008 before cruelly missing his country's World Cup triumph in 2010 through injury. This summer he was back in the ranks, twice replacing Andres Iniesta as a late substitute to play his part in another Spanish success at Euro 2012. La Liga Weekly podcaster Sid Lowe has even claimed Cazorla "may just be the best player [in Spain] not playing for Madrid or Barcelona".
So where will he fit in? Cazorla can play anywhere across the line of three in a 4-2-3-1 system. He is predominantly right-footed but, lacking electric pace, he favours cutting inside from the left. That could put him on a collision course with a very different type of left-sided forward in Lukas Podolski but the likelihood is that Arsene Wenger would seek to use both men in tandem. With the pace of Walcott on the right, Cazorla will expect to enjoy himself in a central role - picking out runners with his passes and showcasing his remarkable vision and trickery. Of course, Wenger will also be wary of hampering the development of Alex Oxlade-Chamberlain, so Gervinho could find himself the man who struggles to get on the pitch for Arsenal.
So this deal is going to happen, right? The situation at Malaga is complicated and Daily Mirror journalist John Cross, who is well-connected at the Emirates Stadium, reported earlier in the week that an impending takeover at the Rosaleda was threatening to cause a major hold up. Meanwhile, Revista de la Liga regular Graham Hunter suggested Arsenal will be forced to up their bid from the £18m originally offered. Even so, with Wenger so fond of a bargain and keen to show the club's intent this summer, it would be a huge shock if Santi slips from the Gunners' grasp.