Le gossip
Paris-based correspondent Jonathan Johnson scours the French newspapers and taps up his sources to provide an overview of what's going on across the Channel
By Jonathan Johnson - @Jon_LeGossip
Last Updated: 23/08/12 3:04pm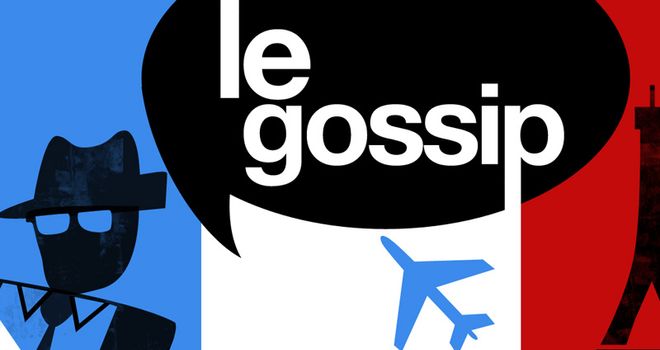 One story more than any other is making waves on both sides of the Channel right now: Joey Barton's proposed loan move to Marseille. A number of other talented but unheralded Ligue 1 stars look set to be on the move with less than a fortnight of transfer dealings left, but it's Mr Barton that is dominating the headlines.
There are times when you know what you are reading or hearing is the work of fiction but there are some stories that really leave you flummoxed. Every now and then though they turn into reality. If you'd told me a few weeks ago that Joey Barton would be moving to Marseille on loan I would have laughed. The controversial midfielder, banned for 12 matches at the start of this new Premier League season, is hardly the type of character you'd imagine wanting to challenge himself in another culture.
But the same was said of Joe Cole and despite his time at Lille being a failure on the pitch, off it the Liverpool man regards it as a success.
The same looks like it will be happening with Barton but instead of joining an established, title-chasing side like Lille, he could be linking up with a Marseille team that has seen better days. Although the deal is not complete yet, the 29-year old looks set to embark on a semi-exile of sorts after parent club Queens Park Rangers have attempted to rid themselves of their enfant terrible. A mooted swap deal with l'OM's Stephane Mbia seems to have died down, but all the talk in France already is of how the midfielder will adapt to life off the pitch.
On paper, Barton and Marseille appear well-matched. A troubled, if talented player joining a club renowned for its crushing pressure due to an illustrious history and more importantly, sky-high fan expectations. Seen as the poorer relation in the Paris Saint-Germain-Marseille rivalry even before the arrival of the capital club's petrodollars, the club are now even further removed from their affluent rivals. But this is where Barton fits. A largely unfashionable if traditional club has often been home to unwanted talents. The Merseysider could thrive in Provence.
Another thing that adds spice to Barton's potential arrival in France would be his claims before the turn of the year to be a PSG fan. Last November in an interview with Canal+, the former Manchester City man claimed that he was a PSG supporter from his childhood thanks to his hatred of Liverpool and les-Rouges-et-Bleu's European clashes with the Anfield giants.
"When I was younger, I supported Everton and every time PSG played Liverpool in the European Cup, I wanted them to win," Barton said.
"However, I still have a lot of work to do here. But who knows what the future holds for me?"
Whether it was Barton being an opportunist and sensing a chance to talk himself into a move to a bigger club so soon after his move to QPR is open to conjecture. How the PSG hardcore will react should Barton visit the Parc des Princes will certainly be interesting to note. They're not known for offering warm welcomes to adversaries. Even if the move may be some way off for moment, it's certainly food for thought. If it does go through though, it should be quite the ride.With the Englishman grabbing most of the headlines, a few domestic names that are being linked with moves to English clubs have slipped under the radar. Allow Le Gossip to help you catch up...
Cheikh M'Bengue
Toulouse's flying full-back Cheikh M'Bengue was long thought to be on the shortlist of Newcastle manager Alan Pardew but now it appears that Arsenal have jumped the queue for his signature as competition for Kieran Gibbs. The Senegal international has been linked with a move away from the club since his breakout season two years ago, but has so far remained in the Pink City.
At 24-years of age and with TFC seemingly having reached a plateau in terms of their development with the current crop of players, M'Bengue could be sacrificed as coach Alain Casanova seeks to bolster his squad's attacking options. The full-back is also keen to test himself elsewhere having established himself as one of Ligue 1's leading left backs, alongside Benoit Tremoulinas of Bordeaux.
Despite chairman Olivier Sadran's insistence that no further departures will be sanctioned before the end of the transfer window, it is easy to see why Arsene Wenger has taken a liking to the defender. More reliable than both Gibbs and Andre Santos, M'Bengue has a good blend of defensive nous and attacking prowess that has seen him become indispensable at the club since making his first team debut aged 19 in 2007. Tenacious but with a rather vicious streak, Wenger would have to work on the player's discipline but with over 111 appearances already notched up for Toulouse, it has not hampered his development so far.
Etienne Capoue
Another Toulouse star recently attracting attention is Etienne Capoue, having made a name for himself in Ligue 1 over the last year. Currently in his sixth season with le Tefece, the midfielder has rapidly become a key player and recently received the highest praise when Casanova dubbed the 23-year old "the greatest player the club has seen in the last 20 years".
Normally playing as a defensive midfielder, he was surprisingly prolific at the start of last season using his ability to push forward at the right times and find himself in space in the opposition's penalty area. Although that soon died down, he still had three goals and three assists in 33 appearances to his name.
His style of play has been well-refined and he is now one of the country's best holding midfielders. Tenacious and combative in the tackle but remarkably skilful with the ball at his feet, Capoue is carving out a reputation for himself as Toulouse's talisman.
One of his greatest assets is his versatility, not just in the positions he can play but the skills he has that can be transferred to suit whichever role his manager asks him to fulfil. This season has seen him play in central defence, central midfield and as TFC's anchor-man. There are not many midfielders in European football who possess such a complete package and it is no surprise that links to Barcelona, Paris Saint-Germain and most recently Arsenal have begun to surface.
Arsene Wenger has been heavily linked with a move for fellow Frenchman Yann M'Vila from Rennes; however the 21-year old will command a huge fee (€25-30 million). It is rare that Wenger pays that much for just one player so Capoue would be a much cheaper option and, in truth, is in no way inferior to M'Vila. In fact, should the Rennes man's suspension following his misbehaviour at Euro 2012 cost him future opportunities, it will be Capoue who takes his place.
Recently made a full international by les Bleus' new manager Didier Deschamps, it is surely a matter of time before the TFC man makes his breakthrough and becomes a starter. Sources close to me indicate that Wenger's interest in Capoue is very real, so Gunners fans watch this space...
Pierre-Emerick Aubameyang
16 goals and six assists in one season for a player that had previously been considered a winger is an impressive haul and that's what Pierre-Emerick Aubameyang contributed towards Saint-Etienne's seventh place finish last year. As a result, Tottenham are one of a number of clubs now believed to be tracking the talented attacker. His conversion into a centre-forward under Christophe Galtier has been an inspired move and once the player signed a permanent deal with les Verts, something he had previously been unable to secure in loans spells within Ligue 1, the Gabonese international proved a revelation.
A player with a unique eye for goal, his finishes are often as exciting as the different hairstyles he sports every few weeks and it was inevitable that he was going to end up playing up front given the lack of attacking presence in the ASSE team. The final third is where he can cause the most danger and his goals helped the club exceed expectations in Ligue 1. Part of Aubameyang's success can also be put down to Galtier's tactics.
Les Verts' supremo sets his side up to attack with venom and this benefits the strikers and wide men with pace, like the 23-year old. The team is set-up to attack with speed and ferocity which coupled with a strong defence makes the team difficult to play against especially when they are on the road.
Kurt Zouma
Saint-Etienne's Kurt Zouma is another tremendous young Ligue 1 talent to have caught the eye from the Stade Geoffroy Guichard this year. His talent has already been noted by scouts of Manchester United and Manchester City. Brought into the side amidst an injury crisis last season, the towering 17-year-old has been asked to play right-back and centre-back already this year. QPR are believed to have jumped to the front of the queue last week by tabling a €12million bid for the youngster.
His raw power and pace that have yet to be refined make him a difficult obstacle to bypass in the ASSE defence and growing in confidence and stature in every game, he has quickly staked a claim for a regular first team spot. Dominant in the air at the back and going forward and capable of making lung-bursting runs from defence with the ball, French football experts are already tipping the youngster to be the new Marcel Desailly. Only time will tell.
With only a few weeks left until the end of the transfer window, expect some clubs to make good on their rumoured interest in French talent. With a number of other well-documented transfers also left unresolved for the time being, don't be surprised if Ligue 1 is a hotbed of late transfer window activity right up until the window slams shut.