Secret Agent
The shadowy world of the football agent is one that is cloaked in secrecy amid accusations of greed. Thankfully, we have got one of the good guys on board to lift the lid on what life really is like at the sharp end of a notoriously cut throat business.
By Secret Agent - Follow me on Twitter @sssecretagent
Last Updated: 30/01/13 5:29pm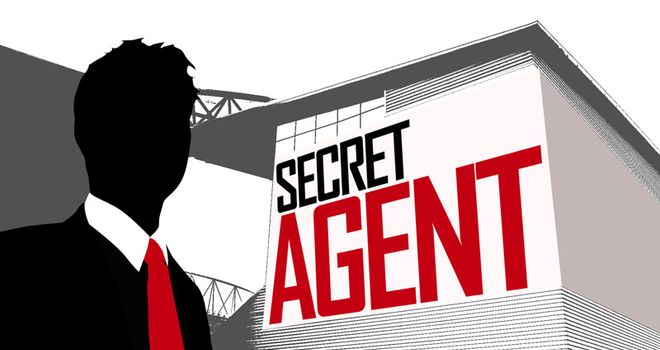 "This transfer window - I've never seen anything like it. Every agent seems to be trying to screw each other. It's like gang warfare out there. It is scary. If you've got a deal for a player, another agent will try to scupper that deal if he is not involved in it. It's unreal. It's unbelievable what is going on. They're all fighting for big money, that's the problem." Harry Redknapp.
Welcome to my world Harry. After a good few years in an industry more cut-throat than a Sweeney Todd convention you do build immunity to the dark arts of an agent hijack. Only the rookies aren't aware that when a fellow agent says they're 'right behind you' they are more than likely not lying but simply moving into the easiest position in which to stab you in the back. To be honest, if other parties aren't trying to get on a deal I'm brokering I start to worry.
This is of course the voice of (relative) experience speaking and it's only through having my fingers burnt have I learnt not to take things personally....
A couple of years back I was working alongside another agent in England who had a particularly tight relationship with a Premier League club. At the time I had an agreement in my name to find a relatively high-prolife Italy international a club in the Premier League. I wasn't inundated with offers but the club most interested was the very same which had a healthy working relationship with my aforementioned 'pal'.
To get this player into the club I decided I would need his help to complete the move and working on the old adage that 50 per cent of a lot is worth more than 100 per cent of nothing, I set about doing the deal.
If you don't work in the game it might surprise you that more often than not an agreement to transfer a player will have an expiry date. Usually the end date of the transfer window, January 31 or August 31, is cited. To put me under pressure to complete a deal, the player's agent (who was Italian) gave me the mandate with an expiry date of two weeks before the end of the transfer window. I disclosed this to my agent 'friend'. This turned out to be my fatal mistake.
The English agent who was in direct contact with the Premier League club dragged his feet on the deal, excuses dripping from him like a faulty tap. Being greener than Bruce Banner after one of his turns, I took it all in good faith. Other targets were being considered, price was a bit rich, not sure whether he'd suit the kit planned for next season; all the while I lapped it up like Odie to his cunning Garfield.
With the end date for my mandate fast approaching I panicked and started to scramble around other top flight clubs to see if I could score a last-gasp leveller. Alas, there was to be in no Fergie Time this time.
There were no tears though; for every one deal that gets done another ten will flounder. If you work on the basis the glass is invariably drained it saves time usually spent deliberating over whether it's half-full or half empty.
I needed a drink the following evening though when my eye was caught by a yellow ticker cutting across the bottom of my TV screen. Great news, the club 'we' (me and said agent friend) had hoped would sign our Italy international were doing just that! The club's offer had been accepted, personal terms agreed and only a medical to be passed before ink was put to paper and everyone involved got their cut. Oh to be young and foolish...
Lesson learnt
Classic shafting! The agent I was working with knew the English club was willing to pay for the player but didn't think to tell me. He also knew the mandate agreement I had was due to expire. Once midnight of the mandate date passed he contacted the player and his agent in Italy with the offer, which he told me he hadn't received, and completed the deal.
Another lesson learnt the hard way. If the shoe was on the foot I would have still involved him and completed the deal as intended. What's that saying about nice guys and finishing last? Unfortunately his moral compass was even more off-track than a 'What happens in Kavos!' regular.
Meanwhile, as the window edges closer to slamming shut across Europe on Thursday, one deal I'm trying to complete is to take a player from Switzerland to Serie A. It's a complicated transfer, with many people involved in the chain all asking for paperwork to cover their backs. As Harry will attest, it's no surprise given there is always someone to happy to screw you over if the chances arises.
In fact, as I write this blog I'm waiting for my latest 'new friend' from Italy to get me the paperwork to make sure I don't get cut out of the deal. In the business it's called a fee sharing agreement. A one-pager outlining who gets what when/if a deal is completed; it's essential paperwork these days - just as important as any mandate or representative contract.
Last minute
In England and Scotland I'm hoping to get a couple of last minute deals through, although I'm not ordering the Porsche just yet. There are always at least a couple of clubs somewhere who are scrambling around to get bodies in, often as a result of being gazumped as other teams start to panic.
During the last couple of days of the transfer window, and much to my family's annoyance, I will have Sky Sports News on the TV 24/7 (ED - pardon?!). Following the TV is essential to getting tip-offs, while Twitter has become a new tool in the weaponry of any agent in the last year. Peter Odemwinge's tweets are testament to that fact.
Enjoy the next 48 hours or so as they unfold and look out for my mug on the TV in the background. I'll be the one with the paperwork looking as though I could cry.
But don't worry Harry; nobody is going to shaft me!